[TRACK BREAKDOWN] 'Thank U, Next' showcases Ariana Grande's growth
Just five months after the release of her fourth studio album Sweetener, Ariana Grande is back with Thank U, Next. The album's singles "Thank U, Next," "Imagine," and "7 Rings," have all done very well both in the charts and in sales, and the album itself has topped the US iTunes charts since it was released on Feb. 8th. Despite being released so quickly after Sweetener, the songs are very different both lyrically and instrumentally. Most of the songs feature trap-like beats, and the topics for most songs are her breakup with SNL star Pete Davidson, rapper Mac Miller's death, and Grande's personal growth following those events.  
Imagine
The album's opening track and first promotional single is definitely one of the stand-out tracks on the album. It has a pretty but simple instrumental that allows Grande's impressive vocals to shine. Some of her signature whistle notes are featured on the track as well. The lyrics are about an idealistic and unattainable relationship, and they're rumored to be about Mac Miller.
Needy
Grande posted a snippet of this song back in November, and it immediately gained a lot of attention from her fans. The full version of the track did not disappoint. The music box-esque instrumental is very pretty and simple. Many listeners have related to the lyrics in the song such as "Sorry if I'm up and down a lot (Yeah). Sorry that I think I'm not enough, and sorry if I say sorry way too much." The song is genuine and expresses emotions that Grande hasn't portrayed in her music very much in the past.
Nasa
Ariana Grande has tweeted about her passion for all things space and NASA many times before even getting several responses from NASA's official Twitter (including one on the date of the album's release), so it came as no shock to many of her fans when she named a song after the aeronautics and aerospace research center. The song is very catchy and upbeat with lyrics about wanting space from a partner in order to heal their relationship. Although it's one of the more one-dimensional songs on the album, it will without a doubt be a fun song to hear live.
Bloodline
This is one is really fun and will probably do well on both the charts and the radio depending on if it becomes a single or not, because of it's bubble-gum pop quality. It sounds very similar to "Side to Side" from Grande's third album Dangerous Woman. The lyrics are about wanting to be friends with benefits with someone without having to commit to a relationship.
Fake Smile
"Fake Smile" is a beautiful track that doesn't particularly stand out on the album, but is good nonetheless. The lyrics are about not hiding emotions: "If I'm hurt, I ain't gon' lie about it. Arms crossed with the attitude, lips pouted." The light and upbeat chorus juxtaposes nicely against the minor chords in the verses.
Bad Idea
The repetitive lyrics and upbeat chorus make this song a fun song to dance to, but it's definitely one of the less impressive tracks. Though it isn't as well written and deep as most of the tracks it's always nice to have a more lightweight song to listen to. The song definitely isn't a stand out on the album, but its fun beat that's a mix of trap and pop makes saves it from being completely forgettable. The minute-long outro will probably stop this one from gaining very much popularity on the radio though.
Make Up
"Make Up" is a fun and catchy bop. The intro instrumental is really pretty, and it has one of the most iconic lines on the album, "Highlight of my life, just like that Fenty Beauty kit." Again, this one has a really nice beat.
Ghostin
One of the rawest and most emotional tracks on the album, "Ghostin" is about how Ariana Grande's relationship with Pete Davidson struggled after Mac Miller's death. The instrumental is very simple and pretty and allows for all the focus to be on Grande's stunning vocals and bittersweet lyrics. With lyrics like "I know you hear me when I cry. I try to hold it in at night. While you're sleeping next to me. But it's your arms that I need this time (This time)," and "Though I wish he were here instead. Don't want that living in your head. He just comes to visit me. When I'm dreaming every now and then (And then)," the track is extremely moving and saddening. It has quickly become a favorite to many people who relate to it or sympathize with Grande's struggles.
In My Head
"In My Head" starts with a clip of one of Grande's close friends Doug Middlebrook talking about how Grande fell in love with the idea of someone she created in her head. The lyrics of the song follow the idea that she created an idealistic version of someone, presumably her ex-boyfriend Pete Davidson, in her head. Overall it's not a bad track, it has a nice beat and pretty vocals, it's just fairly forgettable when compared to stronger tracks on the album.
7 Rings
"7 Rings" the third single off the album, is inspired by a trip Grande took to the renowned jewelry store Tiffany & Co. with seven of her friends where they all got matching rings. It's instrumental and verses inspired by "My Favorite Things" from The Sound of Music are a really fun play on the song originally released in 1965. It's a very fun and catchy song that's essentially just Ariana Grande flexing for three minutes. The song got a lot of criticism from Princess Nokia and Soulja Boy fans because of similarities in the song's lyrics and beat and from 2 Chainz fans regarding the pink trap house in the music video which is almost identical to the haunted house he renovated in 2017. Grande collabed with 2 Chainz because of the drama.
Thank U, Next
If you haven't heard "Thank U, Next" or at least seen the waves it has created on the internet, chances are you live under a rock, and it definitely deserves the hype. The upbeat breakup anthem is fun, catchy, and has one of Grande's best music videos that's inspired by "Legally Blonde," "Mean Girls," "13 Going on 30," and "Bring it On." Though it isn't the strongest on the album lyrically nor does it have a very unique beat, the attitude and vibes that it serves are empowering and fresh.
Break Up With Your Girlfriend, I'm Bored
The next single on the album, "Break Up With Your Girlfriend, I'm Bored" has a mysterious and sleek vibe. The music video has sparked some controversy because it starts with Grande pursuing a boy but ends with her kissing his girlfriend. Many have accused her of queer-baiting, in other words, using queer elements to attract a queer audience. Others see it as her loving herself in the end. Whichever interpretation you believe, the song is a good ending to a solid album.
Overall, Thank U, Next is a strong album that shows both personal and musical growth from Ariana Grande. The emotional depth that Grande reveals in different places throughout the album is impressive, and will no doubt be very important to fans. Ariana Grande is performing at Xcel Energy Center on July 8th.
Leave a Comment
About the Contributor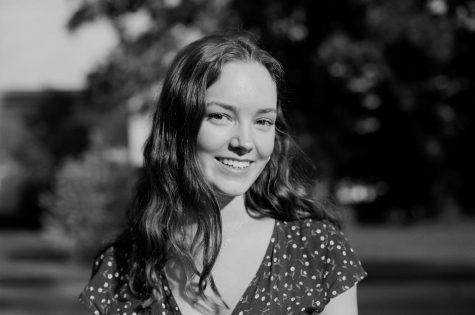 Liv Larsen, Feature Editor
Liv Larsen is a Feature editor on RubicOnline. This is her fourth year on staff. She has been staying busy during the pandemic by watching (too many) movies,...