Theater traditions carry on
With the fall play over and winter one-act plays just getting started, it's easy to see how the ball keeps on rolling with St. Paul Academy and Summit School theater. But no matter the show, cast, or mood, some things never change. The Rubicon takes a look inside some of the traditions of SPA theater.
The food
With just a few hours before the lights go up onstage, the cast and crew gather to eat at Cossetta Alimentari, an Italian restaurant and market near downtown St. Paul. For years, the cast of every play, musical, and one-act has carpooled over to Cossetta's before opening night. "It's far away and super inconvenient but that doesn't stop us from coming here," junior Mansuda Arora said. "No one's hungry for a giant heavy Italian meal–especially before a musical–but that doesn't stop us; we still do it."
"It wouldn't be the theater if we didn't do it," junior Sonja Mischke said. "We just couldn't go anywhere else honestly, especially because it's one of the only places that'll take a big group," she added. It is a big group, but over 40 hungry teenagers hardly make a dent in the available seating. Renovations last year mean the restaurant boasts over 300 seats, indoors and outdoors.
"Now that they have this bigger building, it's really awesome compared to how it used to be," junior Olivia Fitch said.
While the menu offers a wide variety of salads, sandwiches, and other Italian dishes, "We generally order the same thing… either pizza or pasta," according to Arora. By far the most popular dish is Mostaccioli con Ricotta, a pasta dish with accompanied by ricotta cheese sauce along with the Cossetta family sauce.
The snacks
Getting ready to go onstage can be an exhausting process, even for a veteran performer. Luckily, there are plenty of snacks in the Lower School cafeteria, the green room for all Upper School plays. Bags of candy and chocolate provide sustenance and sugar for the nervous actor, but the most exciting backstage food by far doesn't come in a colorful bag: cake.
For every show, Upper School theater director Eric Severson cooks his famous gooey butter cake, a rich pudding-like cake topped with confectioner's sugar. For many, this delicious dessert is one of the highlights of backstage preparations.
"It's fantastic and very gooey," sophomore Emma Taussig said.
The music
No preparation would be complete without the perfect playlist of pump-up music, and theater is no exception. While the cast dons costumes and makeup before a show, tunes blast in the background. There is no official playlist, and the music alters year-to-year depending on the cast's choices of what to play next. But one thing remains constant: the steady flow of showtunes. Although songs by many popular artists, like Beyonce and Macklemore, are played, the majority of the music comes from musicals, particularly ones the school has put on before.
This year, much of the music came from musicals like Newsies, Mamma Mia, and Hairspray, the 2013 Upper School spring musical. And just playing the music isn't enough; there's also plenty of singing and dancing, especially to songs from Hairspray by students who remember the choreography from when they were in it.
"I think it's something that really unites the cast before we get to go be onstage together, especially if it's a song everybody knows. Everybody can sing along and everybody feels that energy," Mischke said. "They know it's building up to the play and we can all unite."
The makeup
With bright lights and a big crowd, faces can get washed away onstage, and that's where makeup comes in. Getting foundation, blush, eyeliner, mascara, and lipstick on almost every member of the show is no easy task, but luckily the makeup crew is well-prepared. Tables quickly become covered in all kinds of makeup and hair supplies as the entire cast gets down to business getting ready.
However, makeup isn't just applied aimlessly; the makeup coordinator works with the director and creates a design based on the show. Sophomore Miriam Tibbetts was in charge of makeup for the fall show The Caucasian Chalk Circle. "I came up for the idea for the makeup mostly based on the set and the idea of the play because I knew it was more of a grungy set, and [Upper School theater director Eric Severson] said he wanted something a bit more rough in terms of eyes," Tibbetts said. "It was still a very hard process because everybody is somewhat disorganized, and so we just had to organize everybody and make sure they were doing what they were supposed to be doing," she added.
The fans
Crowds gather in the hallway outside the Sarah Converse Auditorium after every show to congratulate the cast after the performance. As bodies pack the hall and eyes strain to find familiar faces, cast members come out from backstage and greet their friends and family one by one. "It's pretty great," junior Evan Leduc said. "People are nice, usually."
Some people in the crowd come bearing flowers or cards, others only words of congratulations. The atmosphere is always one of happiness and triumph, and hugs and smiles abound.
Severson doesn't allow the cast to greet their fans in costume on the opening night, but he does on closing night. "It's probably better knowing that the show's over and you've just finished it; you don't really have to think about it anymore," Leduc said.
Warming up
Some traditions aren't purely for fun and bonding. Before every show, the cast warms up to get prepared for the hard work of acting. "Warm-ups, for what we do, is to get everyone pumped up and energized," junior Sophia Harrison said. "It gets us kind of in the mode. It's kind of like a wake-up call, like 'It's show time!"' she added. The cast warms up all together onstage through dancing and tongue exercises: rolling their tongues 12 times on each side of their mouths. "We get in the zone, and I guess it's just a transition from reality into getting into character and coming together before the show," Harrison said.
Leave a Comment
About the Contributor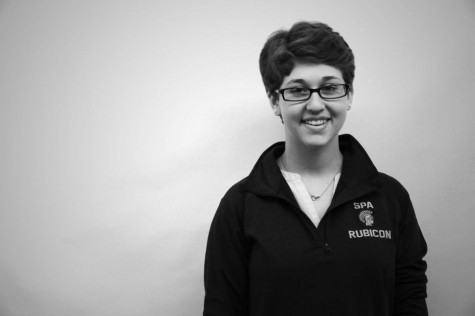 Netta Kaplan, Managing Editor
Netta Kaplan is a junior at St. Paul Academy and Summit School and the managing editor of The Rubicon. She has prior experience on staff as both a Copy...