Teams create lifelong memories on off-campus trips
Team trips allow student athletes to grow closer as a group through practices, meals, and periods of leisure over several days while making lasting memories in the process. This year, several teams went on trips over winter break. Fencing traveled to Appleton, Wisconsin for a tournament, and the Alpine Skiing team took an annual retreat to Giants Ridge in Biwabik, and the Nordic Skiing team trained at Maplelag in Callaway, Minnesota.
"We all fenced in a tournament in Appleton, and there were eight of us from SPA who went. We enjoyed our time there, even though we didn't get any medals. The most fun part of team trips is when we get to goof off on the bus rides," junior fencer Will Swanson said.
The Alpine Skiing team hit the slopes on their trip to Giants Ridge and made memories while tromping around in the snow.
"Team trips are a great way for the team to get to know each other because we are all such different people but we get to hang out because of the trip. My favorite part is when we get to hang out in the villas," junior Alpine skier Sammy Ries said.
During the two and a half days of their trip over winter break, the Nordic Skiing team explored trails, played in the snow, and bonded while they stayed in cabins.
"
The most fun part of the team trips is when we get to goof off on bus rides."
— Junior Will Swanson
"We have gone to a few different places for our winter break ski trips like Giants Ridge two years ago and to ABR ski trails last year, but this year was special because the skiing paths were more narrow so there was more of a in the woods feel to it. Also, the log cabins were very cozy to be in," senior captain Dina Moradian said.
"The bus was really cold on the way to Mesabi. We couldn't see out of the windows because they were frozen over, and the TV didn't work, so we couldn't watch Mama Mia. We all had to put on our layers and coats and huddle for warmth. It was not fun in the moment, but we told lots of stories and now it's a fun memory to think of," Moradian said.
[In Print] This story is reprinted from The Rubicon print edition: Feb 6, 2018
Leave a Comment
About the Contributor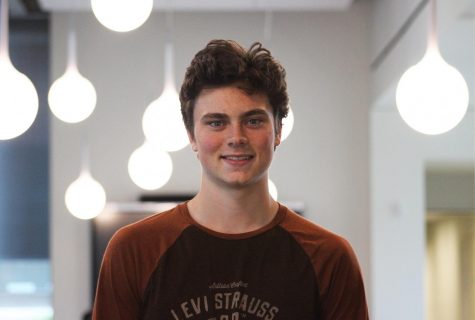 Jasper Green, In-Depth Editor
Jasper Green is the In-Depth Editor for the 2018-2019 season of The Rubicon, and it is his fourth year on staff. Green believes in the power of sharing...