[STAFF EDITORIAL] The trash and recycling system is simple. Use it.
Plastic bottles, banana peels, soda cans, and used napkins: these are only a few examples of the seemingly infinite things that are thrown away. The average American produces 4.4 pounds of trash a day and over 1,600 pounds of trash per year, according to a study by the Environmental Protection Agency. that's a lot of waste. When disposed of carelessly, it can end up in nature and endanger wildlife.
There are measures put in place to combat these issues and make the process of garbage disposal more efficient. The recycling system is a big one; consumers are widely encouraged to differentiate their trash and throw them away in designated containers. Blue, green, and black: these color-coded bins can be spotted all over campus.
"
Careless trash habits by even a few students will render any efforts useless.
However, there are a few issues that arise with the system in place. Not every student knows what the different colored bins mean. Colors can also vary between different systems, in and out of school, adding to the confusion. For example, in some systems, blue bins are for recycling paper. But at SPA, the blue bins are meant for all kinds of recyclable material, like glass, plastic, and cans—not just paper. 
A good way to combat any mixups would be to have more signage on each bin, detailing what kind of waste can be placed there. There are labels on larger bins, but not as many on the smaller ones in classrooms and hallways. The administration is working to address this, using labels from a waste management company called BizRecycling that provides grants for waste programs.
Classroom bins feature a medium-sized blue recycling bin for mixed recyclables with a much smaller bin for non-recyclable trash attached to it. These are in place to reduce the amount of waste that students produce—an essential goal for both sustainability and practical money management. While the purpose of the smaller bins is clear, the problem with them lies with the fact that less mindful students dispose of their regular trash in the recycling bin once the small trash is filled. Careless trash habits by even a few students will render any efforts useless.
It's expensive to dispose of waste, especially since it is done every day to avoid attracting insects. For every dollar spent hauling trash away, SPA pays a tax of about 62 cents. This adds up. Also, plastic trash bags make up a significant portion of what is thrown away, since most containers are not completely filled up once the day ends. 
The school is putting in a good effort; the burden of proper trash disposal rests with those who throw things away. Students must become more proactive about their waste habits and be aware of their impact on the environment. They also need to actively understand and use the recycling system in place instead of thoughtlessly tossing without sorting. Only then can the community work together towards a greener future.
Leave a Comment
About the Contributors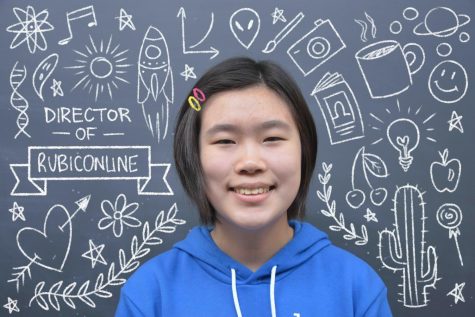 Melissa Nie, Director of RubicOnline
Melissa Nie is the Director of RubicOnline. This is her fourth year on staff. Melissa believes that everyone has a story to tell, and high school journalism...