[SPORTS OPINION] Thorough precautions, health benefits bode for continuation of sports
The world is filled with uncertainty. Should schools be open for in-person learning? Should students be able to participate in sports? What is the future of the COVID-19 pandemic? Students have many reasons to be stressed in this given time, mostly due to the COVID-19 pandemic. Sports, specifically high school sports, provide a much needed sense of normalcy to students. If students are able to attend school with all of the precautions put in place, safety clearly prioritized, why should they be restricted from playing the sports they love? For that reason, high school sports should continue for the interim. Over the course of the school year Saint Paul Academy and Summit School has gone above and beyond with precautions to protect students inside of school and on the athletic fields. These precautions include mandatory mask wearing at all times and social distancing. In addition to these now regular health precautions, other measures have been taken that are specifically aimed at reducing unnecessary exposure to other athletes. For all of these health and safety reasons, in addition to the mental and physical health benefits that sports have, athletics should continue at SPA.
Mandatory mask wearing and social distancing precautions significantly lower the transmission of COVID-19, and this has been proven by many different health officials. Mask wearing is now required at all times during practices and competitions, and this new policy has been well received. Students have received the mandatory mask wearing in practice relatively well, because they know it is up to them whether or not their season continues. So, if students are following the same regulations at practices as they are at school, with the same diligence, then why shouldn't they continue playing sports? Practices are no less safe than attending school, due to the safety precautions being nearly identical, and if not identical, more for practices.
"
After a long day of learning from home without any in-person interactions, practices and competitions become not only beneficial to a student's physical health, but to their mental health as well."
In order to reduce unnecessary exposure to other SPA teams, many student-athletes may not arrive at their practices or games until much closer to the start time. For example, basketball participants may not arrive at the gym until their practice starts, in an effort to minimize exposure to other teams. Girls hockey players also may not arrive at the Minnehaha Academy hockey rink until much closer to the start time of their practice than in previous seasons, and Drake Ice Arena is no longer shared by two SPA teams, which eliminates potential contamination. With all of these safe-gaurds in place, it would be unreasonable to take away the normalcy, competition, and fun that sports can provide for students. In a time where it is difficult to see friends outside of school while still following health precautions, sports provide an opportunity for students to see their friends as safely as possible. In addition to seeing one's friends, sports provide an environment for competition, which would otherwise be missing in the lives of student-athletes. According to the Huffington Post, the competition that sports provide improves students' performance in school, teaches student-athletes to take risks, helps them to develop coping skills for when things don't work out, and allows for students to be a part of another community. It is crucial that sports continue amidst the COVID-19 pandemic. They are not only safe due to the safety protocols put into practice, but they also add so much to the lives of students. In a time when hybrid learning can often become lonely, sports provide a team environment, and an overall sense of fun. After a long day of learning from home without any in-person interactions, practices and competitions become not only beneficial to a student's physical health, but to their mental health as well.
In addition to SPA's mask mandate, the Minnesota Department of Health is requiring that, "All businesses (sports facilities, gyms, associations, sports clubs/teams, etc.) are required to develop a program-specific plan" this action further protects athletes and participants and will aid in resolving any problems that may arise. The MDH is also requiring that during every competition, all people involved must "adhere to social distancing requirements," and, "maintain 6 feet between participants when they are not playing (on the bench, in the dugout, on the sideline, etc.)" During any planned event, "spectators must be at least 12 feet from the closest participant. So at least 12 feet from the field, the bench, or the court, whichever is closest." All of these new precautions, many not in place for the fall season, are further protecting participants of all sports. An additional precaution mandated by the Minnesota Department of Health is a maximum capacity of 25 people per pod. This limits the exposure of one athlete to another, and makes contact tracing significantly easier.
For all the reasons put forth and the safety of the athletes prioritized, high school sports should continue for the foreseeable future.
Leave a Comment
About the Contributor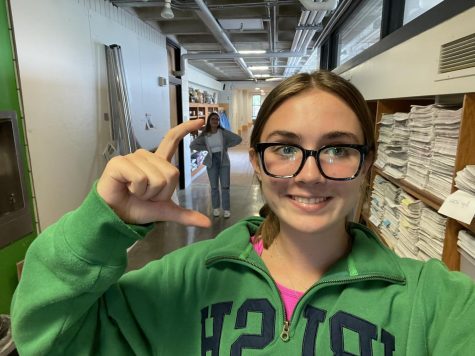 Alexandra Cardwell, Opinions Editor
Hi! I am Alexandra Cardwell. I am a co-editor of the Opinions section for the 2022-2023 school year. This is my fourth year on staff, and in the past I...