[SPA CULTURE] Ep. 1: Line 3 bake sale with Intercultural Club (pt.1)
Lynn: Hi, I'm Lynn here with one of the Intercultural Club, or IC presidents Gabriella Thompson to talk about the club's recent and future events.
Lynn: How has the year gone so far with planning club activities and stuff like that?
Gabriella: It's gone pretty well. We've been able to have meetings online, and we still were able to have MLK, and we're having a bake sale this week, plug. But I think the biggest challenge with being online is that it was really hard with clubs. Being online it's really hard to meet younger students and bring them in, so just now we're starting to have a few younger students that come into IC. But, the first half [of the year], it was really just seniors, because who wants to go in and meet with seniors?
Lynn: IC also has a bake sale this Thursday and Friday to raise funds for an organization doing work against the Line 3 pipeline, an oil pipeline that violates numerous treaties with Ojibwe peoples. There is a great story relating to this on the RubicOnline website titled "Frontline water protector Golden-Wolf shares experience fighting Line 3," where Two-Spirited White Earth Nation Water Protector Alex Golden-Wolf shared their experiences fighting against Line 3.
Lynn: Many SPA clubs are starting to do bake sales again as we get back into four-day learning. Just last week, GSA, the Gender Sexuality Acceptance Club, hosted a bake sale on Monday and Tuesday, and the proceeds went to Avenues for Homeless Youth, a non-profit that helps youth experiencing homelessness [in the Twin Cities].
Gabriella: We've been wanting to do something with Line 3 for a few months. Except I think, up until very recently we weren't allowed to have a bake sale because of COVID restrictions. And then also, we weren't on campus for a long time so that was hard.
Lynn: Thank you for tuning into this part one of the short conversations with Gabriella Thompson. Episode 2, which is about Intercultural Club's future plans and their MLK assembly in January, is coming shortly. Right now, I'm eating some treats from the bake sale, so make sure to check it out. And, make sure to go to tinyurl.com/ResistLine3 for more information.
Leave a Comment
About the Contributor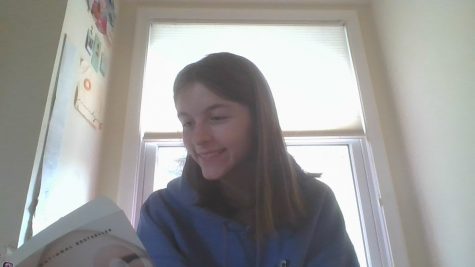 Lynn Reynolds, Opinion Editor
Lynn is the Opinion Editor on RubicOnline. This is her third year on staff. Lynn has kept herself busy during the pandemic by reading and biking a lot....