The Power of Questions: Preston Fares
This is Tristan Hitchens-Brookins and you're listening to "The Power of Questions." Today I'll be asking one student to answer the questionnaire from James Lipton, inspired by Marcel Pivot's 10 questions.
This is Preston Fares, a senior, that attends St. Paul Academy and Summit School, that would describe himself as a chill dude that gives off a cool vibe overall.
"Hey."
"I'm gonna start the questionnaire now."
"Ok."
1. What is your favorite word?
"Favorite word… A word I say a lot would probably be… dang."
2. What is your least favorite word?
"My least favorite word… would be anything hateful so probably just ignorant."
3. What turns you on creatively, spiritually, or emotionally?
"Good music. Something that will inspire me."
4. What is something that turns you off in the same ways?
"Bad music. For sure."
5. What is your favorite curse word?
"Fuck."
6. What is a sound or noise that you love?
"I would have to say… Um… like a car locking."
7. What sound or noise that you maybe hate?
"Bubble wrap. So much."
8. What is a profession other than the one you want to pursue that you think is interesting?
"I would look at going into architecture because it falls into the same realm of things that I'm interested in pursuing in my own life, so that might be interesting."
9. What profession would you not like to do?
"Pretty much anything that involves math, so maybe architecture isn't the best one, but I would say accounting or something."
10. If Heaven exists, what would you like to hear God say when you arrive at the Pearly Gates?
"Something welcoming, friendly, like what's up."
You've been listening to "The Power of Questions." Tune in next week to hear from another student.
Leave a Comment
About the Writer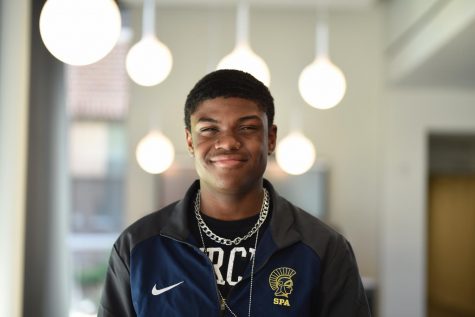 Tristan Hitchens-Brookins, Podcast Editor
Tristan Hitchens-Brookins is one of the members of the Interactive Storytelling Team at RubicOnline. This is his third year on staff. Tristan's philosophy...