Sjaastad works with the next generation of gymnasts
As a way to continue her legacy as a successful gymnast, senior Elena Sjaastad has been coaching girls' gymnastics for four years at Central High School.
Sjaastad has been given this opportunity through Community Education through Saint Paul Public Schools at Central High School, and her previous coach set her up with the job. She said, "My coach reached out and asked if I want to help coach little kids and I was like yeah of course that would be really fun."
Sjaastad works with girls from ages two to fourteen and coaches them two to three times a week. She commits a lot of her time to work with these kids, and her sessions can range from four to six hours a day. With the younger kids, the toddlers attend mommy and me classes where Sjaastad just watches the kids play, but her favorite classes are with the older girls who she can engage with on a higher level as she teaches them about technique and style.
Becoming a coach has helped Sjaastad reconnect with her longtime passion. She competed in gymnastics for 12 years, until an injury in middle school prompted her to reflect on the hyper-competitive atmosphere. Ultimately, she made the difficult decision to quit. She felt that she would fall behind if she lost any more time at her gymnasium and felt pressured to recover quickly.
"I really liked my team, and I was very close with my teammates and coaches, but my least favorite part was it was a lot of mental and physical work," Sjaastad said.
Gymnastics is a combination of physical strength, memorization, and the ability to perform under pressure. But it can also lead to the toxic idea of perfection, which stems from judges scoring one's every move. Judges sit on a five-person panel and after the gymnast's routine rate them on a scale of ten. Points are deducted based on the error made during the routine. After leaving gymnastics at the beginning of the pandemic, she realized that though she missed the sport, she could still find ways to be involved in the community and even practice with her class as she shows them skills.
"
They know how to not be too hard on themselves which is something that I wish a lot of people knew how to do."
— Elena Sjaastad
The classes start with the youngest group of girls, and the age groups get older as the classes get harder throughout the day. While the older kids are learning beam, vault, bars, and floor, the younger kids get to run around and let out their energy. However, the kids are determined to do their very best and are not deterred by a failure or embarrassing moment, something that Sjaastad admires.
"They know how to not be too hard on themselves which is something that I wish a lot of people knew how to do," Sjaastad said. She uses this job as a way to escape from the competitive world as an athlete in gymnastics and enters a coaching level to encourage girls to handle their success and failure in a healthy way.
While gymnastics is getting more diverse it still has a long way to go with both racial and gender diversity. The younger levels are filled with a mix of boys and girls but as the sports become harder the diversity level of her classes drops until it is composed of only girls. With the rise of gymnastics in the Olympics and figures such as Gabby Douglas and Simone Biles gaining gold medals and success stories, young girls flock to gymnastics. However, on the other end of the spectrum boys do not have a famous male figure to inspire them. Racial diversity is growing too with black gymnasts leading the scoreboards for the United States.
Sjaastad said, "My team was always very diverse, but whenever we would go to competitions we'd look around and only see white girls." She hoped to foster the diversity of teams in gymnastics by making sure everyone person has the opportunity to be coached at her gym.
Read more about student coaching in the March issue of The Rubicon, on stands Mar. 6.
Leave a Comment
About the Contributor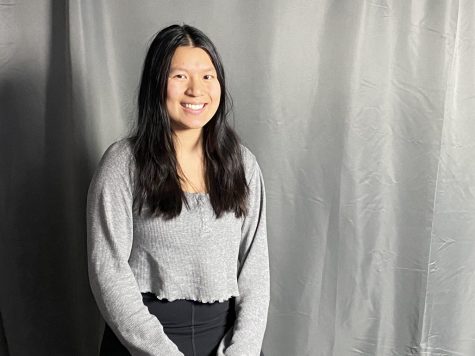 Ivy Raya, Creative Design Webmaster
My name is Ivy Raya. I am currently the Creative Design Webmaster and have been on the Rubicon Online for four years. Previously I was a staff writer,...