Scott remembers legacy of Peter Westra as her 23rd coaching season begins
It's hard to believe that 23 years ago was US Math teacher Mickey Scott's first year as a part time teacher at Saint Paul Academy and Summit School. Scott, before she was the head coach of the Nordic Ski team, remembers the moment she became a coach.  She was sitting at her desk in the math area.
(Consequently this was before it housed an abundance of skiing trophies.)
Peter Westra, a junior at SPA at the time, walked into the math area and had a conversation that Scott remembers to this day:
"Hi, I'm Peter. I think that we go to the same church," he introduced himself.
"I kind of vaguely recognized him, but didn't really know who he was," Scott remembers.
"I heard that you ski," Westra said.
"Yes, I do," she said.  Then, Scott continued the conversation.
"If we can't get a ski coach, we can't have a Nordic Skiing team this year?" he asked.
"I'm not really a ski racer; I'm mostly a recreational skier," Scott responded, but Westra was persistent.
"We would still love to have you as our coach," Westra said.
Scott thought it through and decided that Westra should be able to have his ski team.
"Somehow that just pulled at my heartstrings," Scott said.  
She recalled that, as a young mother with three boys at home at the time, she doesn't know why she signed up to build a new team at SPA, but that she was very glad she did.
Scott still remembers Westra fondly:  "After graduating high school, Peter went on to graduate from Middlebury College in Vermont. By the age of 24 he was a couple of years into a promising career as an international banker," Scott said.
Westra flew home to celebrate his grandmother's 90th birthday in July, 2001. Following the celebration, he flew to Atlantic City, New Jersey , to go to his friend's bachelor party on July 8, 2001. "Just 15 hours later Peter was dead, kicked to death on a sidewalk by bouncers outside of a nightclub," Scott said.
Thus, the Peter Westra Memorial Sprints, an annual race, was born.
Scott's ski coaching led into announcing for big ski races.  After announcing at the Peter Westra sprints, officials asked if she would announce at the Twin Cities championships and then she was hooked.
"I would have never dreamed — first of all — that I would be a ski coach, and then that I would be announcing at races." Scott said, admitting that she thinks that it is amazing that she defines herself as a ski coach now.
"As a 25 year old I would have never dreamed that I would end up being a ski coach," Scott said.
Leave a Comment
About the Contributor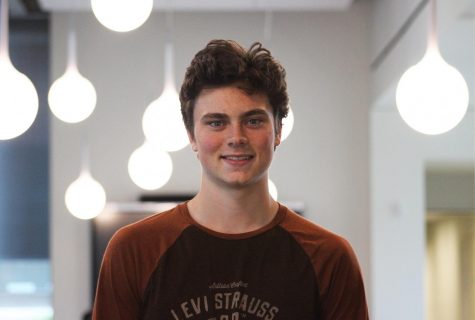 Jasper Green, In-Depth Editor
Jasper Green is the In-Depth Editor for the 2018-2019 season of The Rubicon, and it is his fourth year on staff. Green believes in the power of sharing...