Science Alliance grows membership through a love of STEM
Picture a science enthusiast. What comes to mind? The media has long portrayed science enthusiasts  as wild-haired, taped-glasses-donning 'geeks' severely lacking social skills. But students willing to brave a meeting of the Science Alliance (SA) in Room 101, or even participate in one of the two annual competitions, Science Olympiad and Science Bowl, may find this stereotype to be false.
"A lot of people would think that a science competition is going to be a bunch of smart people talking about things that are way too complicated, but I would say that that's not it;, it's people who are super passionate about what they're doing, and it's a lot of fun," junior Lily Nestor said.
Last year was Nestor's first on the team.
SA competes in Science Bowl and Science Olympiad with growing success in recent years, taking home a first place in the small schools category at last year's Science Olympiad.
"
STEM is a very interesting field, and [because of] what's happening in the workforce and in our community right now, I think it's important to understand science and technology."
— Lily Nestor
"There are two main competitions [in Science Olympiad] – sections in early February and state in late March," senior and president of SA Ben Konstan said.
The competitions involve both individual and team components.
"Each separate competition is usually one or two people for each category but then all of our scores are put together for the school's score. It's both individual and group," Nestor said.
According to one of the club's faculty advisors Ned Heckman, "A little healthy competition is fun and motivating."
Along with its recent success, the club has also been attracting more prospective members than in past years.
"The team in ninth grade had about 10 consistent members. Now, we exceed forty. Freshman year we finished second-to-last in state. Last year? first among small schools… We finally have enough people for two teams. There will be a smaller Varsity team that is mostly for the top returners with the goal of winning state and a big Java Squad for everyone who wants to compete and get their first taste of Science Olympiad," Konstan said.
Since Konstan's first meeting of SA, the club has grown significantly, adding to the competition and success of the team.
Heckman said, "When the current seniors were freshmen, the team had 8 members, now 38 people come to the club meetings… This year, for the first time ever, two teams are going to Science Olympiad… So many kids are coming [to Science Alliance]. It's amazing."
With new members come new perspectives and strengths.
"There's a really big variety of what an individual person adds. People like [seniors] Michael Hall and Ben Mellin are fantastic builders, senior Adnan [Askari] and [junior] Sammy [Ries] research a topic like their life depends on it, many of the sophomores like Sameer [Bijwadia] and Nathan [Sobatka] just bring a certain energy that keeps the group moving forward, and then testers like Abby [Lanz], and myself usually compete well in testing events that are less preparation-oriented," Konstan said.
The students involved in the club are self-motivated and determined.
"I'm impressed by how independent the students are and how much they care. I'm just there to help with administrative things. The students are their own teachers," Heckman said.
The blanket science nerd stereotype does not describe every member of SA, because each person contributes a unique area of interest or expertise to their team.
"People have knowledge on really weird stuff in Science Alliance," junior Sammy Ries said.
This knowledge of 'weird stuff' is put to use on Science Alliance.
The Science Olympiad and Science Bowl are divided into an extensive list of categories.
"Broad categories would be biology, physics, chemistry, engineering, and earth science. Under that, there are sub-categories. For biology there's anatomy and physiology, there's Disease Detectives, ecology, and this weird event where you study lizards. Under physics you have astronomy and other things. You also have weird events, like forensics[the study of crime scenes], that are just under every category," she said.
Beyond wanting to succeed at competitions, Science Alliance aims to connect science-loving students to the larger scientific world.
"
We're part of a national community of people who love science"
— Sammy Ries
"The goal is to get people interested in different types of science… It's a way that students who really, really like science can actually show it off and compete against other students who really love science… We're part of a national community of people who love science. Normally at our meetings we just hang out, talk, and eat food. When it comes around to be the season for competitions, we'll meet after school a lot, and we will study for each event and make sure everybody's prepared for their individual events," Ries said.
This is Ries' third year on SA.
For newer members, the love of science supported in SA is a major attraction.
"I joined Science Alliance because I wanted an opportunity to do some more science-y things outside of our structured science classes — I also wanted an opportunity to learn more about different aspects of science," ninth grader Nikolas Liepins said.
This is Liepins' first year on SA.
When the Science Alliance isn't preparing for competitions or competing, they have many traditions.
Konstan said, "After the Science Olympiad competition ends, the club puts on a bake sale for a research-based charity. It's a lot of fun, gets everyone involved, and raises money for a good cause. In terms of competition traditions, there's the captain candy splurge, a Walgreen's run by one or more captains that ends in bags upon bags of candy and soda that we bring to the competition."
Nestor added, "Every year at the club's fair we always have Dr. Heilig do the bed of nails demonstration."
Along with their drive to outsmart their competition at the Science Bowl and Science Olympiad, members of the SA find studying STEM (Science-Technology-Engineering-Math) subjects to be very important.
"Practically, the applications of STEM are infinite. So much can be gained from studying STEM," senior and co-president Ben Mellin said.
Nestor agrees: "It opens a lot of opportunities up. STEM is a very interesting field, and [because of] what's happening in the workforce and in our community right now, I think it's important to understand science and technology."
Science Alliance brings together a diverse group of people in age and interests, but one thing is certain: they all love science, and they are far from the stereotypes.
Note: Junior Sammy Ries is the author's sister; however, her commitment to SA makes her one of the most relevant sources available on this topic and outweighs the potential conflict of interest.
Leave a Comment
About the Contributor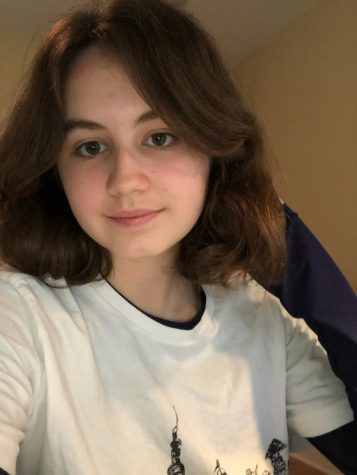 Jenny Ries, Opinion Editor
Jenny Ries is an Opinion Editor on The Rubicon. This is her fourth year on staff. She has been running, writing, and listening to music to stay busy during...