Rose Street Patisserie hosts decadence in new location
Located at 171 Snelling Ave N., is the St. Paul location of Rose Street Patisserie, which opened its doors this past summer. The owner John Kraus also owns Patisserie 46, which opened in 2010, and the Minneapolis location of Rose Street Patisserie, which opened in 2016.
At 12:15 on a Saturday Rose Street Patisserie (St. Paul) draws plenty of young families. "Authentically French Minus The Airfare" according to its website, Rose Street was so crowded that it had to be good, but the wait in line was less than five minutes. The bakery was full of instagram-mable shots, from a prominent display of pastries to a case full of colorful desserts. The service was good, and Rose Street was clean, with lots of windows and plenty of natural light. There was a wide selection, ranging from pastries to cookies to desserts to bread to sorbet and ice cream, as well as a "Savory Menu," of salads and sandwiches, and a "Confections Menu."
In terms of the food, one of their desserts the "Lucia," advertised as "dark chocolate mousse, vanilla cream, flourless chocolate cake & hazelnut crunch," should be a go-to for any chocoholic. Spongy flourless chocolate cake on the bottom, along with hazelnut, with vanilla cream, reminiscent of the cream inside of eclairs, inside of creamy chocolate, all covered in an addictive chocolate ganache outside. All of the flavors complemented each other well, with the hazelnut giving the dessert a slightly nutty, Nutella-esque flavor. To top it off, literally, a chocolate decoration elevated the dessert, while also managing to taste good. This was on the expensive side, at $6.
For those without a sweet tooth, the ham and gruyere croissant, featuring flaky, buttery croissant, with high-quality ham and gruyere, is a good option.
If neither of those resonate, the Rose Street Patisserie also does a good chocolate croissant.
If you are looking for great, high-quality food, and plenty of variety, give Rose Street Patisserie a try at their Snelling location.
Leave a Comment
About the Contributor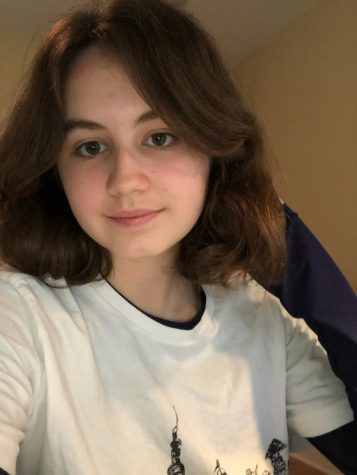 Jenny Ries, Opinion Editor
Jenny Ries is an Opinion Editor on The Rubicon. This is her fourth year on staff. She has been running, writing, and listening to music to stay busy during...