REVIEW: Ms. Peregrine's Home for Peculiar Children strays from book plot, keeps mood
Based off the spooky first book of the trilogy, Ms. Peregrine's Home for Peculiar Children, the movie fails to follow the plot line laid out for it, but manages to keep the eerie vibe. The story involves a boy who is trying to find an old children's home to complete his grandfather's dying wish. When he does, he realizes that this is no ordinary home. It's a home for peculiar children that is set in a loop of time, causing them to never get old. The movie did use the book's plot as a base, but instead of leaving the reader off at a cliffhanger until the next installment, the movie wraps everything up in a happily-ever-after way, leading to the assumption that there will not be three movies.
The movie seems to be aimed at a wide variety of ages, but mostly teenagers and adults filled the theater. The movie is played over a fantastic soundtrack that captures the theme of time and the theme of the unknown. There are special effects needed in almost all of the movie, and the effects were not disappointing. They were used to show the difference between the time periods the movie was set in, and the inhuman monsters that threatened the peculiar population. 
Although it did not exactly represent the books, the movie was still thrilling to watch.
Rating:
⭐⭐⭐⭐∙
4 out of 5 stars.
About the Contributor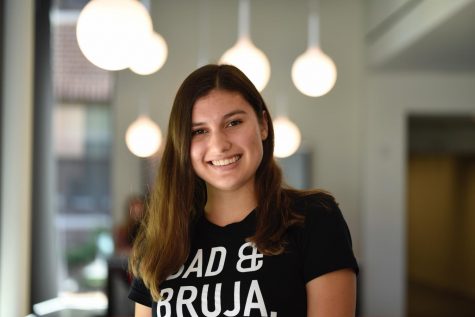 Isabel Saavedra-Weis, Opinions Editor
Isabel Saavedra-Weis is the Co-Editor of Opinion on the RubicOnline. She also is behind the blog No Right Answer. This is her fourth year on staff. Recently,...