Local cafes permit student relaxation and studies
Alternative music plays quietly in the background, with the low level of the cafe allowing it to come out at just the right volume. Floor to ceiling windows allow plenty of light and give the illusion of an open space as well. This idyllic cafe, Espresso Royale, is one of the most well-known coffee shops to St. Paul Academy and Summit School students, as well as being one of the closest. However, how well does it work when studying is needed Espresso Royale has the essentials to studying, such as wifi, tables, chairs, food, and coffee, yet it also provides a pleasantly calm aesthetic. The spaciousness accentuated by the large windows becomes a reality since there are few enough tables so that the space isn't crowded. Table size is definitely a consideration for choosing a study spot, and Espresso Royale doesn't disappoint. The tables are in a variety of locations and are all a comfortable size to spread out study supplies, and not knock over hot coffee. Ever important to the student, the food and coffee menu is both diverse and delicious, and most importantly, cheap. It ranges from bars to cookies, to hot sandwiches, wraps, and chilled sandwiches. There are quite a few vegetarian options, but unfortunately only two gluten-free options of food on the menu. There are multiple drinks available as well, like iced tea, coffee, hot coffee, even hot chocolate for the cocoa lovers. Finally, there is the wifi access, with a clearly displayed password on the wall. Despite a lack of gluten-free menu options, Espresso Royale is a comfortable and accessible place to study throughout the year.
Rating:
⭐⭐⭐⭐∙
4 out of 5 stars
"
Quixotic is an elegant place to study with diverse food options"
Quixotic coffee shop hosts an open and well-lit space. There are plenty of locations, such as booths, bars, a meeting room, and center tables in which to sit, which are all a generous size. However, the chairs and room have a hard feel to them caused by a lack of padding via cushions and carpet. There is a wide variety of food that can be eaten throughout the course of the day; pastries from Patisserie 46, oatmeal cups, sandwiches, soups, parfaits, and salad. Out of all these options, everything except for the sandwiches has gluten-free and vegetarian options (including gluten-free donuts). Amazingly, you can also order food from The Highland Grill and have it sent straight to the coffee shop. There is a wide range of coffee, including their signature nitrogen infused cold pressed coffee (When infused with the nitrogen, the coffee gains a creamy and foamy taste, yet doesn't actually have any cream. This style of coffee is only offered at a few other places in the Twin Cities). If coffee doesn't sound good, water and soda are also available. Furthermore, the white tile decor gives a clean and refreshing aesthetic to the cafe. Price wise, the food and drinks weigh closer to the $10 amount than $5, so a little pricey. Of course, if you get food from The Highland Grill, it will be significantly more. There is, of course, wifi. Quixotic is an elegant place to study, with diverse food options and large tables, but the high prices and hard furniture don't hold well for extended periods of studying, making it more suitable for a quick coffee date than a two-hour long study spot.
Rating:
⭐⭐⭐⭐∙
4 out of 5 stars
J and S Bean Factory is one of those places where the knick-knacks, coffee smell, and background noise join to give a comfortable and homey feel to a public coffee house. The decor is eclectic, and the warmly colored walls also help to provide a cozy, small space aesthetic. Unfortunately, the tables aren't very large, which can be a problem for many studyers. However, there are two wifi networks that help increase the speed of the service. Furthermore, there is a constant white noise in the background of the coffee beans being ground. This can be soothing or distracting entirely depending on the type of student, and also provides a pleasant coffee bean aroma. There are many drinks, from apple cider variations to hot chocolates, to coffees, to smoothies, milk, and soda. J and S Bean Factory characteristically grinds its own coffee beans on site, after shipping them from South America and Africa. While there are many snacks like pita chips and hummus, J and S Bean Factory also has tamales from the local business La Loma. They are cheap, filling, and most importantly, delicious. Unfortunately, there are not many gluten-free options (there are quite a few vegetarian options), restricting that menu to drinks, and tortilla chips. Overall, this coffee shop has low prices that can allow long-term studying with food and drink. Though the tables can hinder some studying habits, the food and drink variation, flavor, and price allow for a long time of studying in a comfortably cozy environment.
Rating:
⭐⭐⭐⭐∙
4 out of 5 stars
"
The brick wall and old fashioned coffee grinder at Dunn Bros Coffee exude an antique vibe"
Dunn Brothers Coffee is a classic coffee shop, with sparsed tables and chairs, live music, pastries, and of course the classic coffees. The brick wall and old fashioned coffee grinder at Dunn Bros Coffee exude an antique vibe, yet doesn't encourage the carefulness that many antique stores call for. The tables are spread out across the space, yet are all round and relatively small. All the chairs (not booths) are padded, and there is an open wifi network. There is plenty of low-lighting and large front windows that provide an opening perspective onto Grand Avenue. There are scheduled live music performances, and while this seems like a fun activity, it doesn't function well when you really just need to study for that math test. The drinks are classic as well, consisting of lattes, cappuccinos, and hot chocolates. Their beans are mostly shipped from South America and Africa, and the different kinds are regularly rotated. Their food consists of mostly pastries, including gluten-free options, and sandwiches with some vegetarian options. Excitingly, however, after 5:00 PM, the pastries are half off. Speaking of, prices are relatively low, so no great deals, but no bankruptcy either. Dunn Bros Coffee is a cozy, vintage cafe that incorporates traditional coffee shop elements into the modern need for workspaces with plenty of tables, wifi, and reasonably priced menu items. The live music is a definite problem for studying, yet the calming aesthetic makes up for part of that.
Rating:
⭐⭐⭐∙ ∙
3 out of 5 stars
Leave a Comment
About the Contributor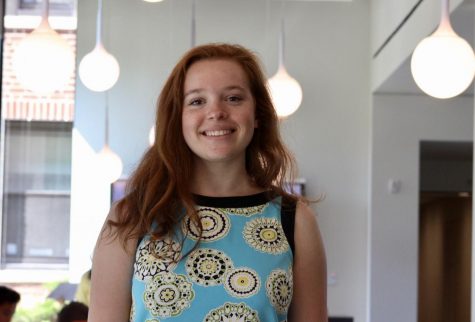 Chloe Morse, Managing Editor

Senior Chloe Morse is a self-motivated leader, scholar, and Managing Editor of The Rubicon.  Outside of school, Chloe is a voracious reader, constantly...