[Q&A] Walker fulfills volleyball dreams, signs to college team
1. When did you start volleyball?
I started playing in 6th grade, and I started AAU (Amateur Athletic Union) volleyball in 7th.
2. How did the recruiting process start?
For me, the recruiting process began sophomore year. During out of town AAU tournaments I'd routinely email schools at the hotel, sometimes 100+ school just to get my name out. Most times I wouldn't get a response back because there's a rule where you have to be in September of your junior year to get D1 responses. 
3. Have you always wanted to play volleyball in college? 
I have always wanted to play in college. Mainly to take the stress off my parents of paying for college, and I also just had a passion for the game. Playing volleyball is my way of coping with stress and other distractions. When I step on the court, nothing else matters at the time.
4. What was it like to commit? How did it change the college process for you?
Committing was the biggest relief of my life. It was a very emotional moment for my family and I because a school finally believed in my capabilities as an athlete and wants to put in the time to work with me. The day I committed, the coach came to town to watch me play in Kansas City. He told me not to worry and that I wouldn't even be able to see him, which was 100% not true. He sat in the front row as I started my warmups, and that was terrifying, but I had to keep my composure. After a few games the day was over, and he texted me and said "give me a call." My parents and I went over to a bench and called the coach, and he said "How would you like to be an Aggie?" Immediately, I started crying. I was the 4th person In my age division at Northern Lights to commit to a University.
5. What excites you most about the whole process?
I'm honestly just excited to be able to continue doing the thing I love most. I would hate to have to stop playing. 
6. What advice do you have for aspiring college athletes?
The only thing I could say to aspiring college athletes is to do your homework. Meaning, reach out to as many coaches as possible, get yourself on schools radars, coaches have many athletes to choose from to get yourself noticed. 
7. What was signing like? 
Signing felt very humbling. To see all of my friends and family come out to support my accomplishment was one of the most amazing moments I could ask for. I was a little nervous, not gonna lie but being next to my parents helped me a lot. I wasn't too worried about the number of people because I knew they were all there to support me.
Leave a Comment
About the Contributor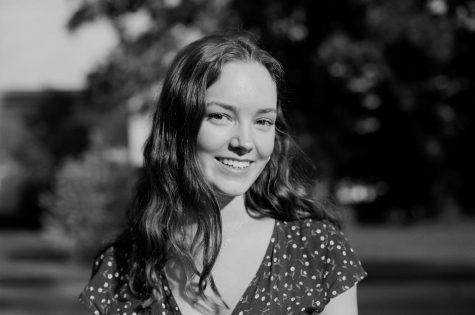 Liv Larsen, Feature Editor
Liv Larsen is a Feature editor on RubicOnline. This is her fourth year on staff. She has been staying busy during the pandemic by watching (too many) movies,...