On stage or on screen, the show must go on
In an attempt to preserve the spirit of the lip sync in the midst of a pandemic, it needed to be moved online.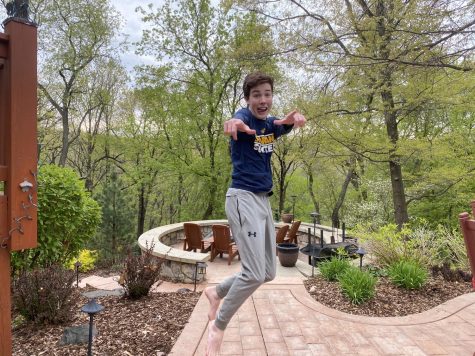 More stories from Bobby Verhey
Since its introduction to the St. Paul Academy community in 2015, the Huss Center for Performing Arts has served as a space for the many formal student concerts, plays, and assemblies throughout the year. However, one informal event has also become a staple of the new, state-of-the-art theater. This event is the annual homecoming lip sync competition which allows some ambitious students to choreograph and perform a song of their choice in front of a crowd full of faculty and their fellow peers. In the year of 2020, though, this tradition clearly needed significant alteration, in order for it to still take place.
In an attempt to preserve the spirit of the lip sync in the midst of a pandemic, the Student Activities Committee (SAC) decided that the competition must be moved online. It was determined that students would be able to record their performance and send in a video of their lip sync that would be viewed in an online assembly. There was only one other demand by SAC: The video had to be one take. Four students were up to this task.
The first of which was junior Rebecca Ebert, who delivered an electric rendition of "Polka Never Dies" by a band named the Dreadnoughts. The performance included a hardcore violin solo along with a background of memes.
"[It] took about 3 hours to edit in the backgrounds, and an additional hour to find all the memes," Ebert said. "It might have been more work, but I would have never done the lip-sync if it was in person because I wouldn't be able to spam the whole school with memes."
Following Ebert was senior, and SAC co-president, Gavin Kimmel who gave an emotional performance of Leona Lewis's 2007 hit "Bleeding Love".
He said "I don't think you can listen to Bleeding Love and not be emotionally moved. It felt only fitting that I carried that feeling into my lip sync." Kimmel's act included a tear-jerking mirror scene in which it was clear that the performer was putting it all into the lip sync. "I felt like, even though I hadn't rehearsed my performance at all, my first take was perfection," he said.
"
I felt like, even though I hadn't rehearsed my performance at all, my first take was perfection,"
— Gavin Kimmel
Junior Griffin Moore's video was next. Moore, a first time lip syncer, performed "Legs".
Moore said, "I believe it was created to be lip synced to on [RuPaul's] Drag Race, meaning that it's short and easy to learn. I already knew all the words and it just felt like a natural choice." The performance was executed well as the performer navigated through difficult choreography. "I spent about 2 hours the night before choreographing [the routine]," Moore said. As for his advice to future lip syncers, Moore said "don't take yourself too seriously, let the lip sync be a chance to try something you've never done before."
Finishing up the competition was senior Rylan Hefner who was a returnee to the lip sync game after showcasing a tap dance rendition of "Perfect Day" by Hoku and a performance of Madonna's "Vogue" in past competitions. This year, Hefner performed "Born This Way" by Lady Gaga. During the song, Hefner included lights and a costume change at the base drop, along with a fully choreographed dance.
"After my first lip sync in sophomore year, I made a playlist of all the songs I could do the next two years. "Born This Way" was one of the first songs I added […] The song is a celebration of humanity, which is the spirit I hoped to bring to the lip sync this year," Hefner said. As a returning winner, Hefner said "This year I didn't go in wanting to win. After winning the contest last year, I just wanted to have as much fun as I could this year, and I did just that."
At the end of the event, it was announced that the three faculty advisors had chosen Kimmel's emotional "Bleeding Love" performance as the winner.
Fellow competitor Griffin Moore said, "Gavin's lip sync was phenomenal, and he absolutely deserved to win."
Overall, the competitors all agreed that this year's event was pretty successful in preserving the spirit of the lip sync.
Kimmel said, "I'm really happy with how the contest went overall. I think we made the best out of our virtual set up, and even though the rules were strict, I think that each participant was able to find their own creativity within the rules."
Despite dances being cancelled, seasons being lost, and hybrid learning difficulties continually arising for students, the lip sync demonstrated that with a little improv, the adaptation and changes going on around campus and the world can be just as good as the original.
Leave a Comment
About the Contributor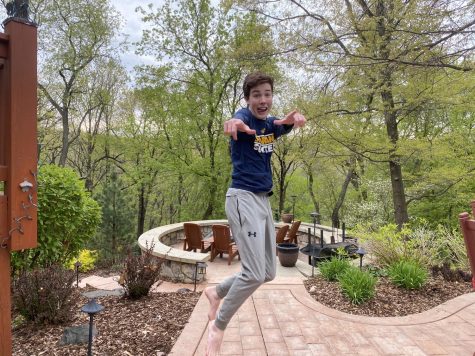 Bobby Verhey, Rubicon TV Executive Producer
Bobby Verhey is the Rubicon TV Executive Producer on RubicOnline. This is his fourth year on staff, previously working as the Sports Editor and Social...