Music and culture intertwine in Senaratna's study-abroad experience
It's not common for SPA students to study abroad, but when junior Audrey Senaratna had the opportunity to spend her sophomore year studying in Sri Lanka, she did everything she could to make the dream a reality. Despite challenges with the coronavirus and having to shift into a new learning environment, the experience proved to be full of incredible memories and lessons that she will hold onto for a lifetime.
"I'm very… determined," Senaratna said. "If I decide I'm going to do something, I will do it. And things might get in the way of that, but I'll overcome those and get to where I want to be." Her dedication and willingness to dive into something new made Senaratna's study abroad experience more valuable because she was able to fully immerse herself in the cultural and social aspects of life at her Sri Lankan school.
"Studying abroad really opened my eyes internationally because I got to meet people from so many different places," Senaratna said. While attending an international school, she met students from Sri Lanka, Korea, Norway, Australia, France, England, and Indonesia, among many other countries.
Creating friendships with such a unique variety of people allowed Senaratna to learn about cultures different from her own, and as a result, had a striking effect on her taste in music. "Those people really inspired my music taste," she shared. "I listen to a lot of Kpop and a lot of French pop." Although she is not Korean or French, some of Senaratna's favorite songs come from Korean and French artists because of her international experience.
"
I think the range of music [that I listen to] kind of reflects my curiosity in the world… and how I want to experience the world in as many ways as I can."
— Audrey Senaratna
Senaratna finds the connection between music and culture to be quite fascinating, and it has become one of her passions since living in Sri Lanka. She said, "[Music] is really a look into how people look at life and how people approach different things." Senaratna enjoys trying new things, and this includes listening to music she has never heard before, while simultaneously learning about cultures she knows very little about.
From the lyrics, to the melodies, to the use of instruments, Senaratna has found significance in it all, because each aspect of a song "can be derived from different parts of the world." Additionally, Senaratna loves watching music videos. The visual element allows her to see culture in a new way (often through dance and performance) and dig deeper into the meaning behind the music.
Music is a means of metaphorical transportation, a way to mentally travel somewhere new.
"If you're listening to music [from a certain place] and you go walk in the streets of that place, I feel like the vibes would be very similar," Senaratna said.
Since returning from Sri Lanka, Senaratna's love for music and culture has only grown. "I think the range of music [that I listen to] kind of reflects my curiosity in the world… and how I want to experience the world in as many ways as I can," she said. In the future, she is considering going to college internationally and certainly continuing to travel to new locations. She has immersed herself in different cultures and made once-in-a-lifetime memories through this incredible journey. For now though, her music will have to be enough.
Leave a Comment
About the Contributor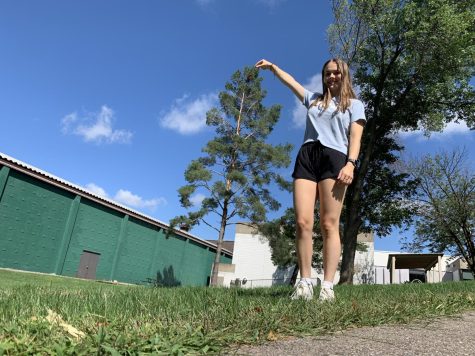 Eliana Mann, News Editor
Hi! My name is Eliana Mann (she/her). I am a News Editor for the RubicOnline, and this is my third year on staff. Outside of journalism, I enjoy spending...