[MOVIE REVIEW] Gaga and Cooper shine in most recent remake of A Star Is Born
A Star is Born, directed by Bradley Cooper, is the fourth remake of the original 1937 film. The story revolves around the relationship between rockstar Jackson Maine, played by Bradley Cooper, and singer-songwriter Ally, played by Lady Gaga, who it seems has already given up on becoming a star. Their romance evolves as Ally's career takes off and Jackson's struggles through his alcoholism and tinnitus.
The soundtrack left something to be desired. The world has seen Gaga's potential before in her music career, and most of the tracks do not seem "Gaga-worthy", apart from some exceptions like "La Vie en Rose," "Shallow," "Always Remember Us This Way," "Why Did You Do That?," and "I'll Never Love Again," which are top notch. While listening to the soundtrack, Cooper's vocals do not shine in the same way that Gaga's do, but, when watching the film, this is not as noticeable.
"
The story is like a Greek tragedy in that you feel a strong catharsis"
Even though it is a musical film, what stands out is Ally's strategic rise to power as she takes advantage of Jackson to make something of her career. The audience cares about her struggle because of how strong she remains in her vulnerable moments. The audience knows Ally is deserving of fame, and feel nervous watching as she walks up onto the stage to sing "Shallow," hoping that she does not mess up. But, once Ally starts singing there is no more worrying because she is incredible.
The story is like a Greek tragedy in that you feel a strong catharsis, but also in that the way the story unfolds is somewhat predictable. The movie is entertaining because of how easy it is to get drawn in and empathize with Ally. Despite how famous Cooper and Gaga are in real lives, their characters are convincingly real and Gaga impresses with some of the best acting she has displayed yet. If one enjoys music and drama, this movie is a must see.
Leave a Comment
About the Contributor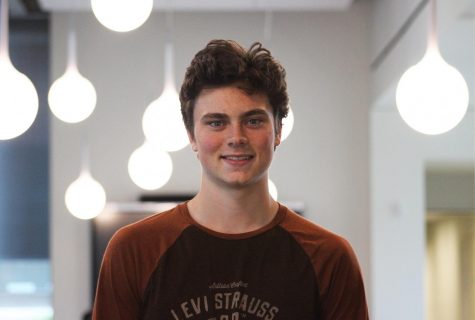 Jasper Green, In-Depth Editor
Jasper Green is the In-Depth Editor for the 2018-2019 season of The Rubicon, and it is his fourth year on staff. Green believes in the power of sharing...