Larsen navigates playing club soccer during the pandemic
Although the school soccer season ended in October, junior Leo Larsen, who plays for a club team, is in the midst of an intense soccer schedule. His Minnesota Thunder Academy team competes in the Elite Clubs National League –one of the most competitive leagues in the country– and has continued to travel across the country for competition even amidst the pandemic.
"We've been to Arizona for a tournament and also to Florida a few times for showcases and all over the Midwest for games," Larsen said. "The Midwest conference in ENCL is pretty spread out. [It] includes Minnesota to Chicago to Missouri etc., so we still get to go to a lot of places and see a lot of new areas."
Although his team has been able to keep up an intense training and game schedule, there are still some changes to their season due to COVID-19 restrictions.
"We have the same practices and games; we just have to be more cautious about the virus and parents can't watch as much," Larsen said.
Larsen has also noticed a clear discrepancy between the teams he's played that come from states like Minnesota, which have imposed strict restrictions on youth sports, versus teams from states in the South that haven't been quite as disrupted by COVID-19 restrictions.
"One thing that has been different though is when we travel to play teams from the South. They are often better as a team than us because they have been shut down less, resulting in their team chemistry being higher. This has made it difficult for us to pick up wins [against them]," Larsen noted.
Nevertheless, Larsen's MTA team has hit a stride in recent weeks and has been able to win some games.
"We are finding our rhythm, winning the last 2 games we played," Larsen explained.
As for Larsen's individual goals, he is determined to play soccer far into the future and has been looking into different options for post-high school play.
"[Playing soccer in] college is a great option and I am looking at and talking to a number of schools right now. Ideally, though I would love to take a gap year and go to Europe to test out what I can do there and [then] commit for 2023 instead of 2022," Larsen shared.
As Larsen has big hopes for his soccer career in the future, he is happy that the pandemic hasn't had too big of an impact on his rigorous training schedule. Like many athletes, Larsen's sport has offered him a constant throughout unprecedented times that he is grateful to be able to enjoy.
About the Writer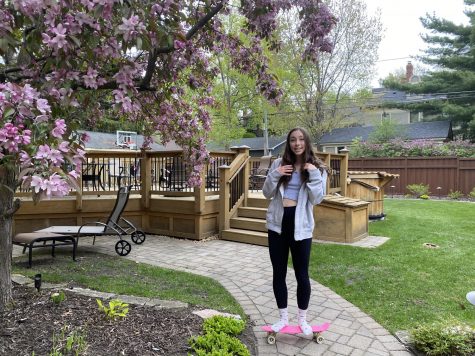 Julia Baron, Beats Manager
Julia Baron is the Beats Manager for The Rubicon. This is her fourth year on staff. While learning remotely, Julia has enjoyed going on runs, reading books...