Gaïtas Sur finds a passion in composing music
Junior Clea Gaïtas Sur has always been in tune with music.
Gaïtas Sur started playing the piano when she was just five years old because her parents wanted her to stretch her mind, challenge herself and learn how to express her thoughts and emotions with an instrument at a young age. She also learned how to play the guitar around the same time.
Though her parents originally introduced her to the instrument, Gaïtas Sur formed a genuine connection with the piano, which has caused her to continue playing and growing as a musician. She also plays in SPA's jazz band.
"I play piano now because I enjoy the task of learning new pieces, and I have really grown to love classical and jazz," she said.
"
I play piano now because I enjoy the task of learning new pieces, and I have really grown to love classical and jazz."
— Clea Gaïtas Sur
After Gaïtas Sur had been playing piano for almost a decade, she dipped her toes into composing music. It's something that she tried on her own one day and struck a chord with. Now, composing music has become a regal part of her life.
Over Gaïtas Sur's two years of composing, she has mainly focused on writing piano and string pieces, but she is currently working on a symphony. "I started working on the symphony because I had a melody that felt like it needed to be for orchestra, and I felt like I could build a lot off of it," she said.
"I guess I just like to play music because it's fun, and I think it's beautiful," Gaïtas Sur said. She continuously finds new songs to play and to write on her own. She has always thought music was beautiful, and the passion has never faded.
Gaïtas Sur appreciates composing for its aspects of creativity and the community build around it. Though she has created many memories over the course of her music career, she appreciates her experiences of playing for audiences."I would consider the first time I got to play my compositions for a professional composer the most memorable experience so far because it was the first time someone really knowledgeable about music got to hear my own work," she said.
When it comes to composing music, Gaïtas Sur doesn't have a cut-and-dry method. "Normally, I'll just be playing piano, and an idea will come to my head, and I will record it, but it varies from piece to piece," she said. She finds that the best way to work is to document her ideas every time creativity strikes, so she never misses an opportunity to turn even a few piano keys into a beautiful melody.
Gaïtas Sur plans to continue to study the art of music and to compose after she graduates SPA. Though she hopes to pursue her passion in an academic setting, Gaitas Sur knows that no matter what, her love for music will always be with her.
Leave a Comment
About the Contributor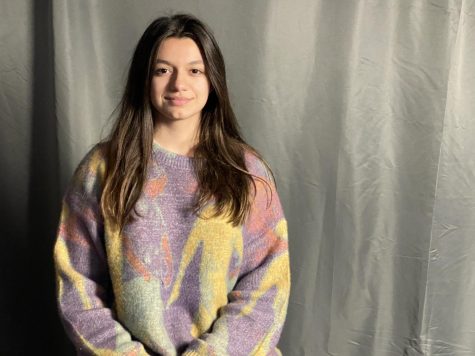 Zadie Martin, A&E Editor
I'm Zadie Martin this year, I'm the co-A&E Editor for RubicOnline. I really like learning about true crime and history. I also play bass and skateboard....