Feet-ured: socks and sandals promote fashionable self-expression
Statement fashion pieces are often worn on the top: boldly patterned shirts, dazzling jewelry, or an eclectic tie. But, with the emergence and popularity of the socks and sandals trend, the focal point of one's outfit might now be centered at the feet.
"I'm a huge fan [of socks and sandals], particularly because I am a person who owns a lot of fun socks. I have some with race cars on them, a few with snowflakes, and one with flamingos," senior Ned Laird-Raylor said.
Laird-Raylor supports the socks and sandals combination as an outlet for self-expression and fashion.
"As a guy, there aren't as many fashion options for you to have fun with, so I find myself seeking fun through my socks a lot. The socks and sandals is really the best way to flex the socks," he said.
While Laird-Raylor's appreciates the socks and sandals as a method for showcasing his unique sock collection, the combination draws other supporters based on the comfort associated with the style.
"You get to wear socks, so you are protected, but you also get to wear sandals so you get that free feeling," junior Annie Kristal said. 
Kristal was not always a member of the socks and sandals bandwagon, but eventually transitioned over after she realized that the combo allowed her to balance comfort with style.
"I was a hater, but I flipped and now I love socks and sandals," she said.
"
You can find ways to dress it up or dress it down, depending on how you're feeling"
— Izzy Denny
Her favorite socks are plain white Nike socks, which she pairs with Birkenstocks for a stylish look, or with her slides for convenience after sports practice.
Senior Izzy Denny also appreciates the versatility that socks and sandals offers.
"You can find ways to dress it up or dress it down, depending on how you're feeling. You can wear Nike socks, or fancy, fuzzy wool socks. I'll wear Birks if I am trying to look cute with my outfit," Denny said.
The possibilities are seemingly endless for the outfits that match the socks and sandals, but some people have specific combinations in mind to bolster their fashion statement.
"When I go socks and sandals, I have a pair of very short joggers that I wear with my very high socks so that way the maximum sock is shown," Laird-Raylor said.
Just like the weather, fashion varies with the seasons. According to Kristal and Laird-Raylor, socks and sandals are best worn during the spring and fall months.
"[The combo is best] either in the fall or spring, because sometimes in the winter your feet can get covered in snow which is gross. In summer, just wear the sandals," Kristal said.
Agreeing, Laird-Raylor said, "I try to keep this in sweater weather areas."
However, there are occasions year-round to appreciate the style of socks and sandals.
"The combo is always in season. I think in the summer, if the evening is kind of chilly you can slip on a pair of socks with your Birks, or you can do thicker socks in the winter to keep warm and still be cute," Denny said.
Whether in summer or the cozy season of fall, finding an expressive pair of socks and combining it with sandals is a surefire style that will draw attention while keeping one comfortable.
About the Contributor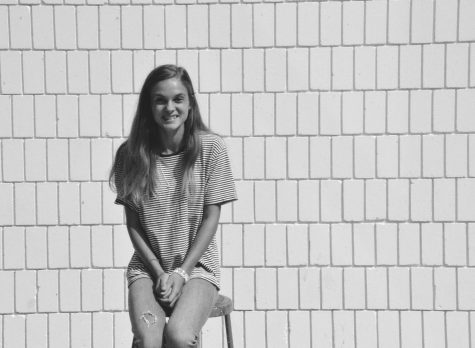 Flannery Enneking-Norton, The RubicOnline Feature Editor
Senior Flannery Enneking-Norton is an environmental science enthusiast, an avid hiker, and the Feature Editor for RubicOnline during the 2017-18 school...