Everlasting art: Ringness crafts tattoo designs
Junior Reilly Ringness has always been fascinated with tattoos. He had planned and designed tattoos when he was younger, and shared an interest in this art form with his siblings. Now, as he nears 18, Ringness is revisiting his ideas and creating new designs for both himself and others.
Ringness has been asked by his friends and family for the past year to aid them in designing their personal tattoos, and has since completed three designs. Although Reilly cannot ink tattoos himself, he is open to creating the designs.
"I started doing these tattoos for other people about a year ago after my sibling brought it up, and then other people I know started to ask about it and I started designing them for people. So far I've designed one for my sibling, which is a coy fish and flowers intertwined, and I'm also designing a statue of a body for my friend." he said.
As far as his creative process goes, it mostly varies from person to person and what they want because Ringness wants to honor their vision. The people who go to him value his creative input, and it's part of the reason he's being asked in the first place, so he works to combine his artistic style with others' requests. But, some steps in the process are universal to ensure that everyone is happy with the end result.
Some of his favorites designs include drawings of objects layered together to form a scene, starting with simple figures can quickly lead to the intricate designs that Ringness produces. So far his favorites are when he designed a statue of a human body and a colorful mix of fruit and plants.
After Ringness has his design ready, he sets his materials up and starts working, going through a multi-draft process and eventually tracing the final design on a separate sheet of paper. He likes to create a calm environment, so he can focus on his art without distraction.
"
It's nice to be able to give people a unique gift."
— Reilly Ringness
"I normally sit somewhere comfortable and lay out all my materials and work on it while listening to music," said Ringness.
In the future, Ringness hopes to continue this passion as a side hobby and design for more people, including himself. "I'm designing a few tattoos for myself in the future, like a beetle with an abstract sun as the background," Ringness said. He chose the beetle because it's his favorite bug and wants to practice the stencil before getting it on his skin.
Ringness' creative process that incorporates feedback and input from the recipient every step of the way allows him to feel confident about the end result of the project and feel a sense of pride that others enjoy his artwork as well. When creating these meaningful pieces, he designs carefully and thoughtfully to ensure the result aligns with the recipient's vision.
To Ringness, tattoo design is a way to give a one-of-a-kind and memorable gift to his loved ones. "It's nice to be able to give people a unique gift," he said.
Tattoo design is an art form that brings people together through creativity and commitment and Ringness strives to add his own flair to every design by channeling his talent, creativity and connection to each person he designs for.
Leave a Comment
About the Contributor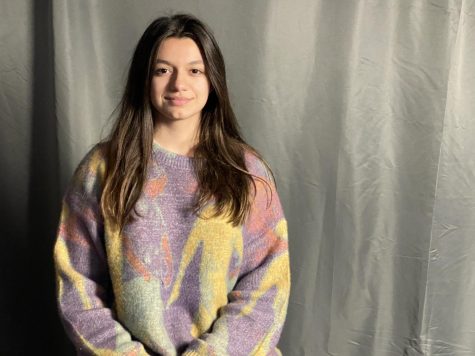 Zadie Martin, A&E Editor
I'm Zadie Martin this year, I'm the co-A&E Editor for RubicOnline. I really like learning about true crime and history. I also play bass and skateboard....