[EVENT REVIEW] Jibba's House Fashion Swap worth the price of admission
Timmy Wozniak owns a small shop on Grand Ave named Jibba where customers can sell him limited sneakers and clothing or put them on a consignment deal. Wozniak has a large space in the back of his shop that has a small skate ramp and gaming center where he can organize a small convention for these items. Jibba Co. advertised on social media and offered tables for any vendors who were interested at the rate of $50 per table, and admission for any customer was $5. On Apr. 13, 15 vendors set up their tables, and at noon the doors opened.
As well as a DJ there were a lot of vendors including a Key Master arcade game filled with sneakers, a skateboarding area, vintage clothing vendors, a food truck serving Korean food, an art vendor and limited sneaker and streetwear vendors. At the beginning, $50 seemed like a lot of money for a table as not many customers showed up, but around 4 p. m. a few began to trickle in and vendors were beginning to make some sales.
Many customers were pleased with the outcome of the event with a variety of vendors and activities and found the $5 admission fee very reasonable for the large venue and the wonderful experience. Around 5 p.m. more people began to come in and the venue became a bit more crowded, much to the vendors' satisfaction.
However, there were still a few cons.
The space was very large and there was a heater on one side of the venue causing it to be warm on that side but a bit chilly on the other; still, the venue was no doubt an amazing place with many activities but could have used a bit more lighting and customers.
Overall it was a great event that encouraged a wide age range of customers to drop in and buy a few pieces whether they were looking to buy clothing, food, sneakers or art.
Jibba's House is open 12-7 every day at 1326B Grand Avenue in Saint Paul.
Leave a Comment
About the Contributor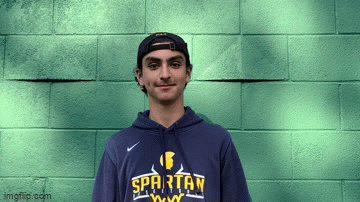 Salah Abdulkarim, Editor in Chief
Salah Abdulkarim is the Editor in Chief of The Rubicon. This is his fourth year on staff. Over the summer, Salah was an intern at the National Scholastic...