Duvra's artistic process is All About Love
This Valentine's day, art teachers Rita Gauscheman and Mara Duvra debuted their collection, All About Love, in the art gallery. Gauscheman's pieces include various works created with wood, while Duvra has a collection of photographs and a poem that goes with them. 
A big part of Duvra's artistic process involves reading. She likes to read multiple pieces at the same time to see how one piece changes the way she looks at another. Her current work was partially inspired by a book she read called "Sovereignty of Quiet" by Kevin Quashie. 
"[The book is] thinking about blackness beyond resistance, beyond the political, and beyond the public. Everything is political, but it's thinking about when we think about blackness it shouldn't always have to tell us something about race relations, or it shouldn't always have to tell us something about what it feels like to struggle," Duvra said. 
"
This is a representation of one black woman, so that we can understand that there are wider representations, wider ways of being, wider ways of understanding."
— Mara Duvra
Her work in the gallery is part of a larger body called Tending: meditations on interiority and Blackness. Its focus is to create softer, more vulnerable, representations of black women to show wider representations of black women than what is shown in mainstream media. The collection was also displayed at Soo Visual Arts Center in Uptown, Minneapolis College of Art and Design, and Gustavus college. In those displays, she had the poem that goes along with the images split, so each line was on a separate page. Her motivation in doing this was slowing people down, so they would really take in each line of the poem and how they go with the photographs. The poem is called "A Litany for Survival" by Audre Lorde. 
"I had a second, or maybe even fifth, tenth reading of that poem, "A Litany for Survival," and thinking about how [Audre Lodre] is speaking to black women. Other people can see themselves in it, but when I look at her work, and the way she represented herself, it's sort of like love letters to black women… When I thought about that poem, I always thought of this idea of being in or around water. I had this visual of someone standing in or being still or calm near water. I want people to look at this model and see, not just the exterior, but what's happening on the interior for her. What do you think that she feels? Is this a feeling that you've ever experienced?" Duvra said. 
If you have not checked out the All About Love exhibition, it will be in the gallery until Mar. 14. 
Leave a Comment
About the Contributor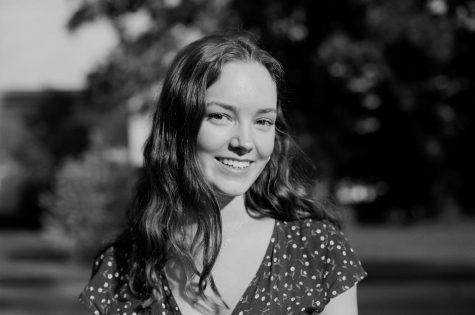 Liv Larsen, Feature Editor
Liv Larsen is a Feature editor on RubicOnline. This is her fourth year on staff. She has been staying busy during the pandemic by watching (too many) movies,...