Conference rivalries fuel competition
History provides context for age-old opponents
While sports teams always try to be competitive, some games provide more incentive than others. Especially at a school with the long athletic history of St. Paul Academy and Summit School, sports-based rivalries are bound to crop up. Some are based on long-standing traditions, like SPA's century-long rivalry with The Blake School. Others arise spontaneously for specific teams, built on a few contentious games, a memorable playoff victory, or a heartbreaking defeat.
The boys basketball team has developed a slate of rivals in recent years, largely due to memorable section games. The varsity team advanced over Minnehaha Academy in the 2012 section tournament, winning on buzzer-beating 3-pointer from Harrisen Egly, now a senior captain.
"We felt that if we executed our game plan, we had them. We stuck with them in the first half. Then after halftime they jumped on us but we responded well and had a lead down the stretch. In the end we won," Egly said.
They lost the next game against Concordia Academy in overtime, in front of a large visiting crowd of Spartan fans. After falling behind, the team made a comeback late in the second half and cut Concordia's lead to one-point. With seven seconds left, Egly was fouled and made a shot to tie the game. "Then in overtime they hit shots when we didn't," Egly remembered.
The rivalries have persisted since. "Every conference game is huge for us but recently we have had some of our most intense games against Minnehaha, Concordia and Breck. We've battled in both the regular season and sections and those match ups have really become rivalries," Egly said.
Egly explained that Minnehaha, Breck, and Concordia, pose a special challenge because they consistently field a few standout players: "All three of these teams always have a few really good players that can get hot if you don't play solid defense. So that is always a big focus when we play them– stopping those good players without sacrificing our defense overall," he said.
The tension in games against conference rivals frequently escalates into physical aggression.
"During every game [with Minnehaha, Concordia, and Breck] it can get aggressive, and really intense…In the Minnehaha game this year, one of their players lowered their shoulder into [sophomore] Kent [Hanson] on a screen and our coach got a technical after they called a foul on Kent. And [sophomore] Ryan Peacock and I fouled out against Breck," Egly said.
The Girls Varsity Basketball team can get even more physically aggressive against their rivals, according to junior Katie Ademite. Ademite remembers animosity between Blake and SPA basketball teams since she started playing varsity in 8th grade.
"The tension is much greater between the teams because nobody wants to lose a conference game, especially to someone who is as big of a rival as Blake is to us. Everyone's emotions are running high, and combined with a high level of intensity it leads to a very heated and physical game," Ademite said.
Ademite referenced one especially rough game against Blake that took place two years ago.
"It was by far the most aggressive game we've played against them… the last few minutes were exceptionally bad," Ademite said.
The Boys Varsity Baseball team has new and old rivalries: a recent contest with Minnehaha Academy, as well as a long-dormant one with Blake.
"Our rivalry with Blake goes back a long time. We've been playing them since 1910, so over a hundred years," senior captain Josh Johnson said. "But recently, they've been in the bottom half of the conference, so we didn't give them too much thought."
That changed when Blake eliminated them in section play last year.
"Last year's final game was sort of a renewal of our rivalry. They ended our season, and it was an unexpected defeat, a close game that was decided in the final innings. So heading into this year, we'll definitely see them as more of a rival," Johnson said.
While Blake had long remained off of the team's radar, Minnehaha is a constant rival: "In the week leading up to a game with Minnehaha… we're aware of the challenges we're going to face. Even if there are other games that week, we keep Minnehaha in mind and have more of a get-to-work mentality," Johnson said.
Games with Minnehaha in recent years have been decided by razor-thin margins, which Johnson attributed to their two ace pitchers Matt Fiedler and John Pryor, who both went on to play Division One baseball in college.
"It's always the theme of a pitching battle with them," he said. "Over the last three years, all our games have been decided by only one run, or only one hit."
Some of those runs have stayed with the team for a long time, like the Minnehaha player who scored on a wild pitch in the last inning of a section game in 2011.
"Minnehaha is definitely a different kind of rivalry. It's been active for years, and we've [made] a lot of history with them," Johnson said.
Leave a Comment
About the Contributor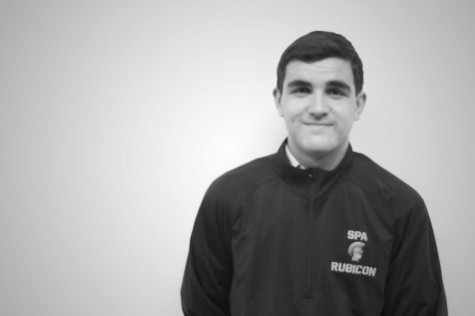 Thomas Toghramadjian, Columns Editor
Thomas Toghramadjian is a senior at St. Paul Academy and Summit School. He is currently in his fourth year on The Rubicon's staff, in the position of Columns...