Community Service Spotlight: Sirek and Hart volunteer at Conway Recreation Center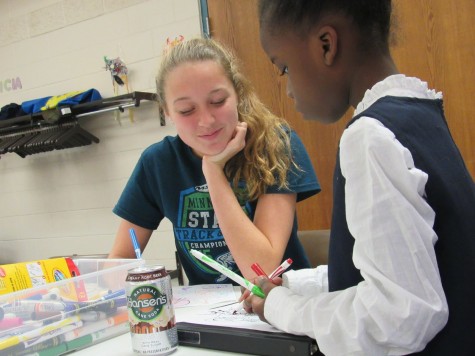 At 4:00 p.m. the bus that brings the kids arrives. Children teeter and totter across the playground to Conway Recreation Center, their home for the next two hours. Homework, if any, is always the first priority. They may play outside or in the gym and conduct art projects like mask making or volcano building. The kids trickle from room to room. The dribbling of basketballs and squeaks of tennis shoes echo through the halls, along with laughter. There's a smell of drying paint from the posters the children freshly painted. Smiles stretch across their faces as volunteers play with them.  
"I love to see the kids smile, and it's fun when I come back and after a while the kids run up to me and give me a hug. It is nice to know they remember me," sophomore Greta Sirek, a volunteer at the center said.
Sirek began working at the center because her mother works for The Sanneh Foundation, which helps facilitate Conway. When the children met Sirek, their faces lit up brighter than the fluorescent lights hanging above the halls.
When walking down the hallway, one could easily peer into the rooms and encounter people of all ages coexisting. A place like this takes work.
"
It's an easy and fun way to get involved and help the community. Also, the kids are super cute."
— sophomore Greta Sirek
"It's challenging because there's a lot of different kinds of people and they all have needs and wants. There are limited resources and you can only do so much. You can only serve so many people. You only have so much money. You have to try to fill everyone's needs," CEO and founder of the Sanneh Foundation, alum Tony Sanneh ('90) said.
However, while the center takes work, volunteering their does not necessarily feel like work.
"It's cool because it doesn't even feel like volunteering. It's really fun and in the end I know I have helped make someone's day a little better, which is rewarding," sophomore Val Hart said.
It's easy to see that the safe center revolves around one common thing: the children.
"It's difficult to respond with solutions without first recognizing the real needs of the community. By participating in everyday conversations with the youth and parents at Conway, it allows me to recognize and determine the appropriate programming that will have a meaningful impact on their lives," CAO and Executive Vice President of The Sanneh Foundation, Jennifer Ridgeway said.
If interested in volunteering, donating, or hosting a Kick It Back Drive (collecting gently used athletic clothing), contact Melanie Cobb at [email protected]
Additional reporting by Emily Thissen, News Editor.
About the Contributors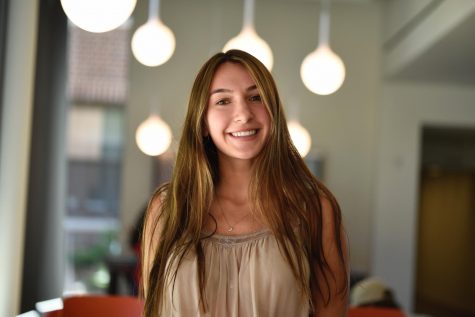 Mimi Geller, Director of RubicOnline
Mimi Geller is the Director of RubicOnline. This is her fourth year on staff. Mimi believes that high school journalism connects people by sharing their...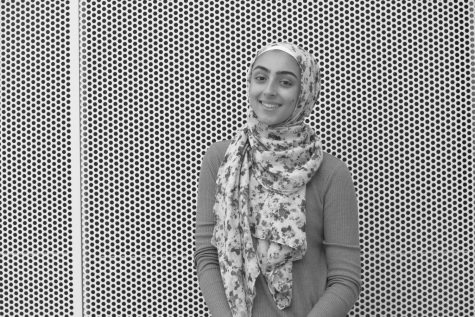 Iya Abdulkarim, Editor-in-Chief
Senior Iya Abdulkarim is a driven writer, photographer, designer, and The Rubicon's Editor-in-Chief. Over the past four years, an interest in storytelling...