[COMMUNITY SERVICE SPOTLIGHT] Hofmann squares up to service
Grilled cheese. Maybe it's one of the first things you learned to make on the stove. Maybe it's the sandwich you crave when you're sick. But for some, grilled cheese is a second chance… and for Mia Hofmann, it provided an opportunity to volunteer. Over the summer, Hofmann served at a nonprofit grilled-cheese sandwich shop located on Hiawatha called All Square.
"All Square is a nonprofit organization which helps people who are formerly incarcerated reenter society," Hofmann said. 
On their website, All Square describes themselves as "A response to the widespread exclusion of individuals with a criminal record, a brand that embodies social sustainability, racial justice, and economic inclusion, [and] a solution fueled by law, entrepreneurship, social capital, and grilled cheese." At All Square, formerly incarcerated people have an opportunity to work in the shop as a fellow while simultaneously enrolled in a curriculum that focuses on law and entrepreneurship. This grilled cheese shop gives them a support system that is vital to reentering society.
"
[When you are in the shop,] there are interesting conversations that happen.
— sophomore Mia Hofmann
As a criminal defense lawyer and a law professor at the University of Minnesota, Mia Hofmann's mom has passed her ideas of the importance of second chances for formerly incarcerated individuals to her daughter. Hofmann found out about the opportunity to volunteer at All Square through her mom.
"My mom works with a bunch of people who do that kind of stuff, […she] is close friends with the woman who started the business, Emily Hunt Turner," Hofmann said.
"On a typical day [at All Square], I would help out in the restaurant, filling drinks and bringing food to tables," Hofmann said. While waitressing at All Square, Hofmann got to know Emily Hunt Turner and everyone working there better. She said spending time with them was one of her favorite aspects of volunteering there. 
If the mission of All Square speaks to you and you want to get involved, Hofmann recommends that you simply go to get a grilled cheese. She said, "[When you are in the shop,] there are interesting conversations that happen."
Hofmann's advice to anyone interested in serving their community is to find something that speaks to them.
"Pick something you're passionate about and stay involved," she said.
Leave a Comment
About the Contributor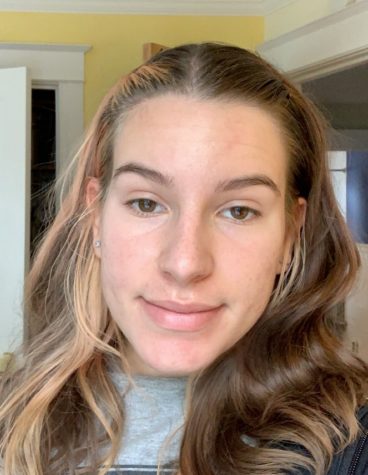 Lucia Granja, Social Media Manager
Lucia Granja is the Social Media Manager on RubicOnline. This is her second year on staff. While staying home, Lucia has been watching shows, listening...