Burns dominates on the slopes
Turning on his edges, sophomore Caden Burns glides down the mountain at Afton Alps in Hastings, Minnesota. It certainly isn't mighty, but the steep hill covered in sparkling, slick snow will have to be enough for a passionate skier living in the low elevations of the midwest. As he makes his way down the run, picking up speed, Burns feels on top of the world.
Starting at just two years old, Burns grew up on the slopes, learning how to master the art of skiing. "My dad was a ski racer when he grew up and so he got me into that," he said of these early beginnings.
At the age of eight, Burns began skiing with the Afton Alps Alpine Club, an organization apart of the US Ski and Snowboard Association. At the Afton club, Burns has gotten the very best training from head coach Tony Olin, Olympian Lindsey Vonn's former coach. "He's just an amazing coach. Really good with kids too […], it's fun to watch him talk to them," Burns said.
Of course, Burns is also a proud member of the Spartan alpine team, where he has medaled in every race so far this year.
Burns' other recent accomplishments include being selected for the US under-16 team for the OPA Cup in Germany in early February, and being named a Star Tribune Prep Athlete of the Week for the week of Jan. 30.
But, skiing has never been just shiny medals and exciting wins. It has its drawbacks too.
The grueling club schedule keeps Burns busy most nights after school, and this doesn't even account for competitions across the US and even outside of the country. "We have training Monday through Thursday from 6:30 to 8:30 every night, and Afton's probably like a forty-minute drive from my house," he shared.
Additionally, last February, Burns suffered an awful injury while skiing in Colorado. While taking a run down the mountain, he felt serious discomfort in his back which eventually turned out to be a stress fracture.
Burns said, "I had to take two weeks off, and there was a lot of PT involved, and I've kept doing PT but it just takes a lot of discipline." Time away from the mountain was a real challenge, but nothing could stop Burns from continuing to do what he loved.
"
I had to think about it for a few minutes. But I guess just giving me a feeling of control that I don't feel like I have elsewhere.
— Caden Burns
That very question, why Burns skis and what he loves most about it, came up in a conversation among teammates on the ski lift one day. He said, "I had to think about it for a few minutes. But I guess just giving me a feeling of control that I don't feel like I have elsewhere."
His passion for skiing continues to drive Burns, even 13 years after he began to explore the sport for the very first time. He certainly doesn't plan on stopping anytime soon and has aspirations of skiing at the Division One collegiate level in the future, motivation being key to his success.
"Just remember why you're there, even if it's hard or if you're not doing as well as you want," Burns said. "Just remember why you started, why you're getting up in the morning to go [do] the long drive or the extra workouts. Just have a motivation."
With inspiration and grace, Burns takes on mountains from Colorado to Europe one turn at a time.
View Comments(1)
About the Contributor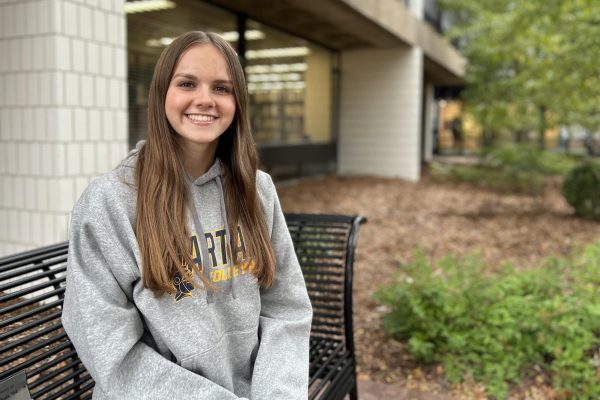 Eliana Mann, Production Manager
My name is Eliana Mann (she/her). I work as the Production Manager for The Rubicon online, and this is my fourth year on staff. At school, I'm a captain...