[BEHIND THE SCENES] Girls Volleyball's culture fuels success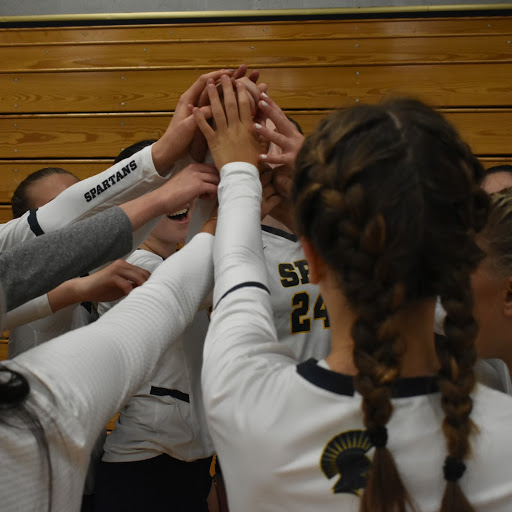 Every team wants to succeed but not many take care of their team like Girls Varsity Volleyball. After a 3-0 win Sept. 13 against Blake, the stands and bench erupted in cheers as they celebrated the second win of the season bringing their  record to 2 wins and 4 losses. No matter a win or loss, everyone on the team supports each other and helps everyone get better.
"Every team spends quality time with each other after school and during school which helps them bond as a team," senior Sydney Therien said,  "It is a very supportive team culture, we are really close on and off the court and I think that shows when we're on the court. We have had very good chemistry this year especially compared to others. It has been very, very good this year."
"
It is a very supportive team culture, we are really close on and off the court"
— Sydney Therien
Many teams struggle to bond like this as they have such limited time, but GVV put in the time and effort to come together as a team and it now shows in the game. Having a team like this paves the way for underclassmen who are learning ways of team culture in GVV. "The volleyball team is like my family," freshmen Johnna Melk-Johnson said. Every team offers a new family from school that you can rely on and GVV is doing an excellent job of this.
They listen to music in the locker rooms to get hyped up before each game. After this, they take the court for their pregame warm-ups. After the buzzer sounds, they head to the small gym where they cheer each other on as they practice their passes. Finally, they take the court, but not before a pep talk from the head coach, Jill Bachman. As the game continues and subs come in and out, the team remains cheerful huddling close after every point. The fans get rowdier as other SPA teams come in to support GVV. Not soon after, as if the game had just started, the final buzzer goes off the team rushes the court. There are high fives and hugs all around; the team is overjoyed by the win. 
Girls Varsity Volleyball plays next on Thursday, Sept 18 against Minnehaha Academy.