A slithery new creation emerges from the art hallway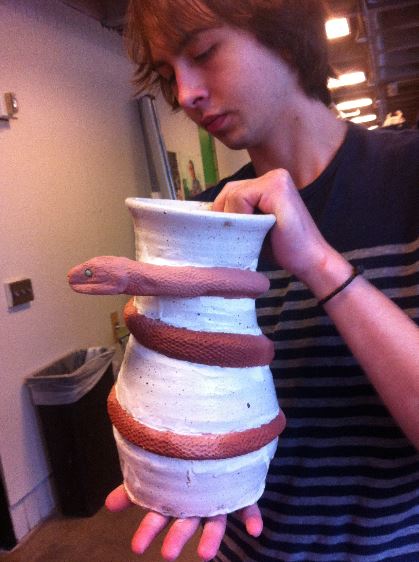 St. Paul Academy and Summit School's art department is filled with countless interesting pieces, be it painting, sculpture, or pottery—and senior Philip Swanson has been working on a mixture of all three.
"I don't remember the name of the artist," Swanson recalled, "but I saw a series of photos on the internet, of a pot." The artist in question had sculpted a Chinese dragon wrapped around a particular vase, in great detail, scales and all. Swanson saw the pot as a challenge. "I told myself 'let's see if I can do that,'" Swanson said.
"I started out throwing a typical vase," Swanson continued. "I didn't actually add any clay as the body of the snake. I just pushed out from the inside wall of the pot." Creating the pot was a multi-week endeavor, from fine-tuning the snake, to making sure the clay didn't dry out, by meticulously covering it each and every day. "For the head, I took some clay and a needle, and worked in all of the little details. I found a tool that made some nice scales, so I spent the entire day—like, actually, the entire day," Swanson laughed, "—pressing it into the body of the snake."
Swanson mentioned that even drying the pot before it was fired took just over two weeks. But when all was said and done, he found himself beaming with pride. "After you've thrown a pot and glazed a pot, you can just admire it and think 'I made this,'" Swanson said. "It's unique, there's nothing else like it in the world. It's one of a kind, and I brought it into existence."
Leave a Comment
About the Contributor
John Wilhelm, Staff Writer
John Wilhelm is a senior at SPA, and joined Rubicon just recently in 2013. He is currently working as a staff writer. His hobbies include debate and fencing,...