WWIII? A look back at the events that nearly led to war with Iran
Just a couple of days into the New Year, war between the U.S. and Iran began to seem inevitable. World War III became the top trending topic on twitter with internet memes, jokes, and political commentary flying around.
However, despite the tension, it never quite boiled over. In fact, the plausibility of war with Iran has gone down dramatically. How did the situation get to this point? There are a number of events that nearly led the U.S. and Iran to blows.
The Iranian Hostage Crisis (1979-81)
After a revolution overthrew the Shah of Iran in 1978, tensions between them and the US erupted after the Shah exiled to the US for cancer treatment. This issue, along with previous concerns from Iranians that America was meddling in their political affairs, prompted an overtaking of the US embassy and a 444-day hostage crisis. Despite this taking place nearly 40 years ago, it built a foundation of mistrust between America and Iran's new government that continued in the future.
The Joint Comprehensive Plan of Action/"Iran Nuclear Deal" (July 14, 2015)
After days of negotiations, the United States and Iran, alongside six other parties agreed to terms that would be dubbed as the "Iran Nuclear Deal." The deal created a large scale plan of aiding, while monitoring, Iranian progression towards a nuclear weapon. This deal was very partisan with Republican politicians having a firm opposition against it, while Democrat politicians were much more supportive of the Obama administration's work.
Donald Trump elected (November 8, 2016)
Defeating a staunch supporter of the Iranian deal, Hillary Clinton, Trump vowed to dismantle the deal as a campaign promise and was determined to follow through. 
Trump officially announces plans to pull out of deal (May 8, 2018)
About a year and a half since he was elected, Trump decided to announce his decision to pull out of the Iranian Nuclear Deal. Doing this, reapplied many previous economic sanctions in Iran, specifically on oil.
Oil tankers attacked (June 13, 2019)
In late spring of 2019, two tankers were attacked allegedly by Iran in the Strait of Hormuz, a key gateway to the Persian Gulf. 
US drone attacked (June 20, 2019)
Just a week after the attack on the oil tankers, a US drone was shot down by Iran just off their coast nearly leading to a US response.
American base in Iraq attacked (December 27, 2019)
Just before the new year, a US base in Iraq was attacked by an Iranian backed group, Kataib Hezbollah, leaving one American dead and several more injured.
US responds (December 29, 2019)
The United States military responded by targeting Kataib Hezbollah strongholds in the Middle East killing more than 25 members of the group.
Embassy attack (December 31, 2019)
On New Year's Eve, the US Embassy was attacked in Baghdad by Kataib Hezbollah's supporters in Iran.
Drone strike on Iranian general (January 3, 2020)
With fear of more opposition from Iran, Trump orders an airstrike on a renowned Iranian general, Qassem Soleimani, who was very well-liked by its citizens without the consultation of many top advisors.
Iran leaves Nuclear Deal (January 5, 2020)
Alongside swearing to "severe revenge," Iran officially pulled out of the 2015 nuclear deal.
Iran responds (January 8, 2020)
In possibly the closest that America has come to war in a decade, Iran attacked a US base in Iraq leaving no casualties, likely due to it being an attempt to de-escalate tensions. The next day, Trump announces plans to advance diplomatically. 
Despite tensions being cooled down since, there were many other close calls such as when Iran mistakenly shot down a Ukrainian passenger jet killing 176 people. However, while the threat is still there, the chances have significantly decreased. As for how SPA students viewed the issue, many had diverging opinions on the matter. 
Senior Quinn Appert said, "I think that Trump did a great job of using the strategy of deterrence to prevent war." 
Junior Adeline DeHarpporte said, "It never should have happened in the first place, and it only did because a drone strike that should not have happened."
"
I think sometimes people can forget that people's lives are at stake […] I don't think it should be joked about."
— Sophomore Nina Starchook
While some students were divided on how they felt about the physical war, a significant number of students were more focused on the social media memes and jokes that came out of it. 
"I found the jokes to be really funny," junior Milo Waltenbaugh said.
Ninth-grader William Austin said, "The jokes are funny but if the war actually happens, I think they will not be as funny."
Sophomore Nina Starchook said, "I think sometimes people can forget that people's lives are at stake […] I don't think it should be joked about."
Whether the jokes are funny or not, tensions between the US and Iran are not new. 
Sophomore Harry Mahmic said, "It's important to know that this isn't just one attack that happened, and that it comes from a long list of events that have built tension over time […] I don't think this will be the last time that the US and Iran will have conflict."
Leave a Comment
About the Writer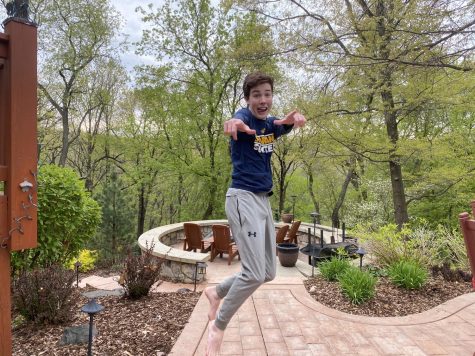 Bobby Verhey, Rubicon TV Executive Producer
Bobby Verhey is the Rubicon TV Executive Producer on RubicOnline. This is his fourth year on staff, previously working as the Sports Editor and Social...