Thomas Toghramadjian, Opinions Editor

February 7, 2014
A man walks into a restaurant, and orders enough hamburgers to feed a large family. Tucking into the food, he recounts a story of a disastrous affair he had in Italy—the story ends with his girlfriend screaming at him while airport security forcibly removes her from a flight home. But, the man says...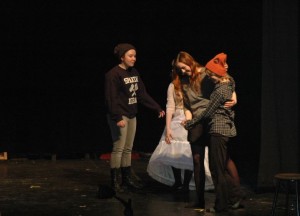 Thomas Toghramadjian, Opinions Editor

February 7, 2014
Keep up with all news related to the Winter One Acts by reading stories tagged with "one acts," found here.
Eva Perez-Greene, In-Depth Editor

November 27, 2013
Senior Jared Mosher stands at the board and illustrates his point in preparation for the Student Diversity Leadership Conference. It's good practice for Mosher, who will do this again for new conference attendees. A metaphorical mosaic is this year's SDLC theme and the St. Paul Academy and Summit...