Captains impart wisdom on their spring teams
Due to the COVID-19 pandemic, students were not able to live out their spring sports experience this year, especially those who were set to be captains. All SPA sports and most fitness facilities are shut down, making it difficult for student athletes to live life as they normally do. Many of this year's captains are disappointed by the fact that they won't be able to play and lead their teams. Captains play a big part in team environments and many people excitedly wait for their chance to be a captain of their favorite sport.
Junior and captain of the SPA Softball team Jane Christakos said, "I was sad that the season was cancelled because this year we had a decent amount of new players who were already improving immensely after only a few practices, the team looked pretty promising this year and it would've been a lot of fun to have played."
Senior captain Sydney Therien was very excited to lead the Spartan Ultimate Team this year. "My thoughts and feelings about the season being cancelled are negative. I think that's the worst part of being in quarantine for me is…that ultimate was cancelled. Ultimate was a huge senior sport, [we] are really disappointed and heartbroken about our season being taken away," Therien said.
"
My hope for next year's captains is that [they] love their sport and have good spirit,"
— Sydney Therien
This year, many of the captains had specific goals they wanted to achieve for themselves and their team, but unfortunately will not see them come to fruition.
"My goals for this year were to get more girls involved in softball, last year we didn't really have enough players. I wanted to include players from the past and players who have never played softball before too," Christakos said.
"[This year], I thought we had a really good chance of getting in the first bracket for state which is the top 15-16 teams and I think we would've had a really good shot this year. We were looking really good in our few pre-season practices we had," Therien said.
Although many of the senior captain's spring sports were cancelled, many still hope that next year's captains will enjoy and have fun in their sport.
"My hope for next year's captains is that [they] love their sport and have good spirit[…]and I think I would be really sad if they didn't carry that legacy all the way through the year."
All you can do is hope you have a season and then just enjoy it. Enjoy it for me and enjoy it twice as much as you would've before," Therien said.
Leave a Comment
About the Contributor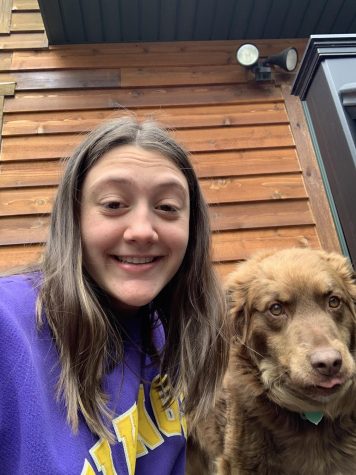 Annika Rock, News Editor
Annika Rock is a News Editor at RubicOnline. This is her second year on staff. During quarantine, she has been taken daily walks around her neighborhood...