Annual homecoming lip sync includes tap dancing, duets
The annual Lip Sync competition took place in the Huss center during Thursday's X-Period on Sept. 27. There were five acts in the competition, including Seniors Ryan Moore and Sawyer Johnson performing "Man or Muppet," Sophomore Rylan Hefner tap dancing to the song "Perfect Day," Faculty member and returning champ Aja Parham performing "Rolling on the River," Sophomore Gavin Kimmel and Junior Ananya Narayan dancing in a duet of "It's Raining Men," with cameos from several Junior and Senior males.
SAC Co-president Max Moen ended the competition by performing Sia's hit "The Greatest." Moen said, "It was definitely the most entertaining lip sync that we've done in the four years that I've seen and taken part in." 
Spectators were also impressed by the talent shown in the Lip Sync and how people were able to express themselves. However, many are split over who they think did the best. Sophomore Eugene Tunney said, "It was much better than last year. I thought that Rylan's tap dance was really cool because it was really different than the other ones. But, I also really liked the comedic side of the 'Man or Muppet' song and I think it was fun to see a different side of the students that participated."
"
It was really fun to perform in front of my friends, especially because it is something that I wouldn't usually do."
— Ananya Narayan
Junior Fremont Forsberg said, "I loved watching Max's Lip Sync. He has done it a lot, but every time he does it even better. I think his was the best."
"I think Ryan Moore and Sawyer Johnson had the best one because it was very funny," said Senior Eric Lagos.
Sophomore Rashmi Raveendran said, "I really liked Gavin and Ananya's Lip Sync because they had the most choreography."
"Aja Parham was very impressive. I think that it is cool that a faculty member is willing to perform in a competition with students," said Junior Aidan Lanz.
Overall , the Lip Sync was enjoyable for the performers and non-perfomers. Junior Ananya Narayan said, "It was really fun to perform in front of my friends, especially because it is something that I wouldn't usually do."
Junior SAC member Helen Bartlett said, "I think that the Lip Sync was a big success because more people did it than in the past… I think it is more fun when there are more people because there is more variation in the songs and how they are acted out."
The winner of the competition will be announced at the Friday Homecoming assembly.
About the Contributor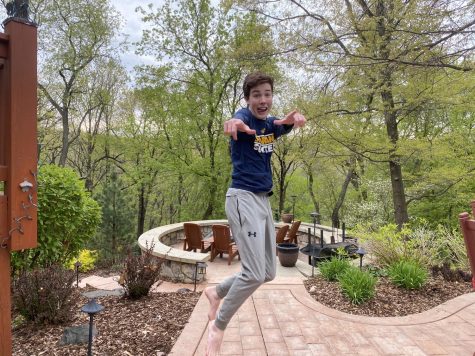 Bobby Verhey, Rubicon TV Executive Producer
Bobby Verhey is the Rubicon TV Executive Producer on RubicOnline. This is his fourth year on staff, previously working as the Sports Editor and Social...