SPA isn't ready for the zero waste movement… yet
In an effort to become more environmentally friendly and conscious, more and more Americans are joining a movement towards "zero waste." The idea of zero waste is to use everything, and make as little trash as possible.
Restaurants across the twin cities have begun participating in the zero waste movement. Kitchens leave tons of waste and throw away food waste nightly, so when facilities like these start drastically reducing their waste it makes it seem like it is an achievable goal. Fig and Farro, a vegan restaurant in Minneapolis, participate by incorporating lesser used parts of vegetables into new dishes.
Regardless of the local restaurants jumping on the zero waste bandwagon, the no trash lifestyle is not as accessible as it may seem. Trash is nearly unavoidable, and to cut it out of a lifestyle requires time and money to purchase a reusable container, compost bins, cloth bags, glass water bottles, etc. Joining the zero waste movement is not only about commitment, but a privilege. While St. Paul Academy and Summit School is a school of many privileges, the community is equipped to take on a no garbage lifestyle – at least not yet.
"I don't think it is possible to move to zero waste because people should not have to sacrifice their quality of life to leave completely zero waste. The SPA community would not be able to go zero waste because we all [students] waste a lot of food and other things," senior Garrett Small said.  
Zero waste is a great concept, but not practical for our everyday lives. Leaving zero waste would great for the environment and SPA's brand. If correctly implemented into the school there could be numerous opportunities or advantages that come with zero waste such as: reducing the pollutants in the air, preserving the purity of water and soil, and can provide jobs in the recycling business. But the SPA community is not ready for the complete change in lifestyle. Students produce too much garbage – food, packaging, plastic –  for the zero waste switch to happen overnight. However, if the administration could figure out a plan that slowly implemented zero waste, there could be hope for a smaller carbon footprint in SPA's future. Creating more gardens, composting more places in the school, and decreasing the amount of packaged foods the school buys could be a good place to start.
About the Contributor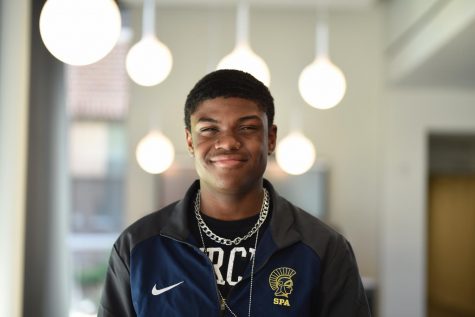 Tristan Hitchens-Brookins, Podcast Editor
Tristan Hitchens-Brookins is one of the members of the Interactive Storytelling Team at RubicOnline. This is his third year on staff. Tristan's philosophy...