The secret to the perfect cup of coffee
Walking through the halls, students mill around holding mugs and cups filled with coffee and yet it all tastes different. There are homemade cups, homemade mugs, Caribou and Starbucks cups carrying the same drink that varies so much. So what is the perfect ratio of cream, equal, sugar, milk, and coffee? Should it be hot or cold? Dark or light? Frequent coffee drinkers were asked for their take and what they think is the best recipe.
Sophomore Senai Assefa said, "I wouldn't have any added sugar in the perfect cup, instead I would only put milk and coffee […] There would be a lot of milk in there to make it taste less bitter."
Senior Mia Litman thinks that the secret to the perfect cup relies more on the temperature of the coffee.
"I think it would be cold brew with a little sugar," she said.
Sophomore Mimi Longe agreed with Litman on the temperature but doesn't prefer cold brew.
"Iced coffee is the best," she said.
"
As long as it overpowers the bitter coffee taste, you're doing it right."
— sophomore John Becker
"The flavored cream that you can put in definitely enhances the coffee experience and make my taste buds jump for joy," said sophomore John Becker. "As long as it overpowers the bitter coffee taste, you're doing it right."
Many students concurred with Becker.
Sophomore Ivan Starchook said, "I Two cups of creamer and coffee."
Others believe that the perfect cup is one in which a perfect balance of ingredients must be met.
"I like a nice medium roast joe. I usually add a dash of cream and nothing else. It has the best balance of flavor and bitterness. I couldn't imagine drinking coffee that has too much cream or milk," sophomore Levi Mellin said.
Junior Zach Dyar said, "You have to find a happy medium between the two. You need mostly coffee and a little sugar […] I have a lot of respect for people who drink their coffee without putting in any sugar, milk, or cream. It's hard to do."
One of these sugarless, creamless, milkless coffee drinkers is junior Eric Bottern.
"I actually like coffee straight black," he said. "I feel like it tastes natural and has more flavor."
"
With the right intention, you can't go wrong."
— junior Henrik Schleisman
With so many varying answers, a conclusion can be made that there is not one universal ingredient or ratio, but instead an extensive amount changing from person to person and may even have nothing to do with the ingredients in the cup.
Junior Henrik Schleisman said, "While any ingredient can be considered to be a vital part of a cup of coffee, I think the real secret to a perfect cup, is the intention behind the brewing of the coffee […] With the right intention, you can't go wrong."
Leave a Comment
About the Contributor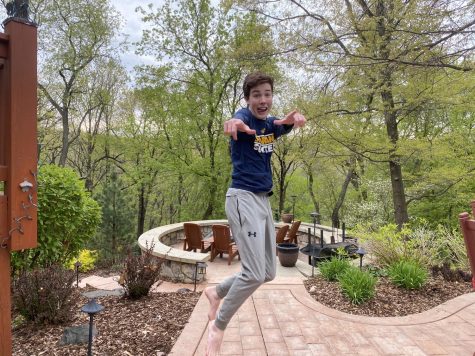 Bobby Verhey, Rubicon TV Executive Producer
Bobby Verhey is the Rubicon TV Executive Producer on RubicOnline. This is his fourth year on staff, previously working as the Sports Editor and Social...