Students and faculty go mad for May Madness
March Madness is loved by many as the annual Division 1 men's basketball tournament, where many people who know everything there is to know – or nothing at all – about basketball spend the month of March making brackets and betting on their favorite college teams. This year, at St. Paul Academy & Summit School, the branding "March Madness" has come to mean different for students and faculty who competed in "March Mammal Madness," organized by SPA's science department. Due to COVID-19 complications, both events that students madly follow came to an end. However, the Upper School Council has organized a May Madness, where students do activities to earn points for their respective classes. It doesn't take the same shape as the March brackets, but it helps fuel the competitive spirit that was lost earlier this spring.
"
I know it's really shown the competitive nature within me and some of my friends, and I'm really proud of [my] class for working so hard."
— junior Gavin Kimmel
With categories ranging from cooking to being active to bringing out one's artistic side, the May Madness tournament has encouraged students to stray away from being a couch potato and be productive through other ways that aren't just academic. It's not just a testament to school spirit, it gives people a chance to prove to themselves that, no, quarantining has not made you lazier, and no, it won't destroy your work ethic if you busy yourself with other productive, non-academic, habits. Students from all grades have taken to their Instagram stories, urging classmates to participate in the challenge.
"I don't really remember how or why I got so into it; I think it was this weird collective feeling amongst everyone that we should accept USC's challenge and show our school spirit by doing the activities. I know it's really shown the competitive nature within me and some of my friends, and I'm really proud of the junior class for working so hard to maintain our leading position," junior Gavin Kimmel said. Kimmel has done many of the activities; from biking to fostering a pet rock.
With the competition ending by today, students and faculty have minimal time to do these activities, and with accurate proof. Each point milestone, teachers are prompted to do goofy tasks as a reward for school spirit. US English Teacher Evan Klavon brushed his teeth with hot sauce and US Spanish Teacher Peter Daniels had his kid trim his beard and then draw it back on again with magic marker. US Science Teachers Kate Lockwood and Rachel Yost-Dubrow and US Math Teacher Lauren Bussey were all pied in the face. In total, the SPA community has accumulated almost 1,600,000 points. Sadly, the total goal, 10,300,000 points, looks like an unlikely feat at this point, which would have ended up with US French Teacher Aimeric Lajuzan treating himself to a red mohawk.
So far, juniors take the lead by a landslide with 6,533,000 points. A form for submitting these activities is on the USC website.
UPDATE: Congratulations to the Cheetahs (11th Grade) for winning May Madness with 656,000 points.
With a final point count of 1,632,200, the Upper School achieved the following goals:
Ms. Bussey, Ms. Yost-Dubrow, and Dr. Lockwood got pied
Mr. Daniels got his beard trimmed and drawn back on by his four-year-old son
Dr. Klavon brushed his teeth with a mixture of different hot sauces
About the Contributor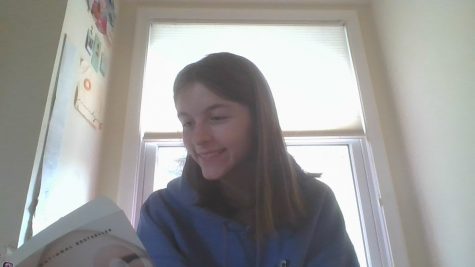 Lynn Reynolds, Opinion Editor
Lynn is the Opinion Editor on RubicOnline. This is her third year on staff. Lynn has kept herself busy during the pandemic by reading and biking a lot....