Varsity Spartan fencing falls to Blake in hard-fought dual meet
Ready, set, fence. Friday night at 4:45 p.m., Spartan fencing took on Blake for their first dual meet of the season. As competitors flooded into the basement of Minneapolis's Center for Blade Arts, anticipation quickly grew as both teams began their pre-competition rituals, warmed up, and stretched. Person after person thundered down the stairs with bulging bags of equipment. Spectators and coaches alike paced throughout the vicinity as animated chatter drifted from where fencers gathered.
As opposed to the traditional tournaments Spartan fencing has competed in in the past, dual meets require an entire team's scores to be compiled together to determine whether they or their competitors won. In men's epee, for example, Maik Nguyen, Milan Mishra, and Mason Brooks each fenced five bouts. The total number of wins they each earned put them just one point short of their competitors, and they lost 4-5 to the Blake Bears.
Amid the excitement of the dual meet, a big season milestone emerged an unexpected win by team manager Quinn Williams. When the team realized they only had two out of the three saber fencers needed to qualify to compete in saber, they asked Quinn to step in.
"I'm the team manager. I just like, carry equipment around and I've never fenced before. And they're like 'Hey Quinn, we need you to fence, we have no one else,' and so I'm like 'Uh, okay,' and so, I fenced a couple bouts and I won one," he said. While slightly overwhelmed by the experience, Quinn hopes this isn't the last time he fences. "I think it was totally worth it. I would like to try it again," he said.
Despite the team's age range and wide variety of experience levels, Spartan fencing is an incredibly close-knit and supportive community. Composed of middle and high schoolers, the team typically practices daily for 90 minutes at Twin Cities Fencing Club. Sophomore Maik Nguyen pointed out that the mentorship from older team members is one aspect of the team dynamic that helps the less seasoned fencers improve dramatically. "There's a lot of seniors that are obviously well experienced and, you know, have taught me how to play. So, like, Val Chafee and Mason Brooks are the two epee seniors and they've been really helping me advance in the sport," he said.
"
Everyone's helpful and really nice. And everyone's just super supportive."
— Freshman Belle Weng
Freshman Belle Weng said, "Everyone's helpful and really nice. And everyone's just super supportive. Like even at the tournaments it's, like, everyone everywhere." This aspect of team encouragement was especially apparent at the dual meet: throughout the duration of any bout they weren't competing in, Spartan fencing team members gathered around the players involved, intently spectating and ready to cheer at any given moment.
Spartan fencing's next meet is Saturday, Feb. 26, at 9 a.m. against Holy Family Catholic, located at Holy Family Catholic High School.

Leave a Comment
About the Contributor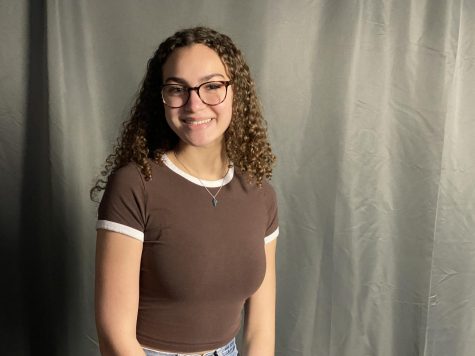 Clara McKoy, A&E Editor
Hi! My name is Clara McKoy (she/her)! I am currently one of the A&E editors for RubicOnline, and this is my third year on staff. I was both a staff...