[SCHILLING SCOOP] Cooper McKinnon creates a new ride
A bike without pedals lurks in Schilling. What could it be? A prank? An art piece? The answer is a project. Specifically, senior Cooper McKinnon's prototype of an electric motorcycle. As McKinnon leaves for his senior project, he reflects upon his time in Advanced Projects, and why he chose to embark on his semester-long journey.
"The reason why I wanted to do this project, and why my heart and soul was put into it, is that electric bikes are predicted to be the biggest seller in the electric vehicle market. They're very practical. They will always be comparatively cheap to electric cars and electric motorcycles, making them a very, very good form of cheap but fast transportation. However, while cheaper, like a lot cheaper still, electric bikes and electric bike kits are very expensive," McKinnon said.
This explains the bare-bones construction of the bike, being only made out of a bicycle with the pedals replaced by a motor and battery all controlled by the handlebars.
"My main idea with this was to make it cheap, make it reliable, and make it easily constructed. In theory, this could all be done with a hacksaw and a drill."
Although McKinnon did not use those tools specifically, he tried his best to make it cheap and simple by trying to use as many parts from the original bike as possible. This was not only to meet his goals but not to spend too much funding.
"I personally would not want to make the school spend that and then be like, 'Oh, well it doesn't work. We can't use this anymore. Guess we gotta throw that in the trash.' Especially considering batteries are not that easy to dispose of."
Despite these challenges, McKinnon was able to assemble his project in time. To do so, he used wood and duct tape to place the battery, motor, and motor controller onto the bike. He also placed switches on the motor controller to turn the motor off or on and the throttle on the handlebars to simplify construction. For safety, McKinnon has placed a wooden sheet as a guard against the chain connecting the motor to the wheels.
However, McKinnon faced challenges in paperwork as well as more hands-on trouble.
"With the initial slideshow, I was very lucky that with such a large and visual project, it was actually easier for me and the viewers to understand what I'm talking about by having the physical object and then just pointing and demonstrating. I only needed slides for the initial presentation because I was still working for the electronic side at the time. That was actually my initial prototype, which overheated."
Yet one of the greatest hurdles for McKinnon was the final write-up.
"I did get a little of a late start on the final write-up because of complicated reasons. Basically, there's two options for the final write-up: a formal project write-up or a less formal, kind of how-to write-up. The main thing for me was I needed to see if the project was going to work or not, because I choose what kind of write-up I'd do depending on what happened."
Unfortunately, the project did not work in the end, not because of the battery, but because of the gear.
"Essentially, I couldn't find the right gear. The gear was too weak."
Though he faced many hurdles, McKinnon is still happy about the end result, as he is leaving the remains of the project to another SPA student's hands.
"I'll be pretty happy to see that, especially given how little is really left to do."
As McKinnon begins the next part of his journey, that bike will remain in Schilling's halls, ready to finally take flight.
Leave a Comment
About the Contributor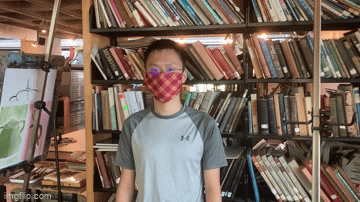 Kevin Chen, Illustrator
Kevin Chen is the Illustrator for RubicOnline, and writes articles and creates digital art for articles. This is his first year on staff. In his free time,...