[RESTAURANT REVIEW] Hot Hands takes the pie
Hot Hands, the new pie shop located on Snelling Avenue, has proved itself with a cozy atmosphere and delicious comfort food. Despite this location being new, the chef and owner Tara Coleman, first opened Hot Hands as a stand at the Midtown Farmers Market, and expanded her pastry business to the Snelling storefront in the first week of Oct. 
The restaurant focuses on their handmade baked delicacies, which change with the seasons based on their locally sourced ingredients. A window above the bar allows customers a peek into their complex baking process.
"
A good pie can be found all over St. Paul, but a tasty, warm biscuit is harder to come by."
Most customers come to Hot Hands for their plethora of delicious pie flavors, but their biscuits deserve just as much recognition. Taking up half of the menu, Hot Hands's biscuits currently come with five different meals, each one is equally aesthetically pleasing and delicious. A good pie can be found all over St. Paul, but a tasty, warm biscuit is harder to come by.
One such biscuit-centered meal is the breakfast biscuit sandwich. This sandwich features classic breakfast foods: bacon and a sunny-side-up egg. The buttery biscuit nicely complements the bacon and egg flavors, resulting in a filling comfort food, perfect fro a winter breakfast. This sandwich was a little too big to eat without silverware, but its size does nothing to dull the flavor. 
Hot Hands's selection of pies offer a sweeter alternative to their savory biscuit-based menu items. The toasted vanilla pie's filling resembling pudding, which is offset with its textured graham crust. The cookie pie tastes exactly as advertised: like chocolate chip cookie fresh out of the oven. 
Another remarkable menu item is the peanut butter cookie that easily surpasses the classic Nutter Butter sandwich cookie. 
Hot Hands appeals to people of all ages with their warming comfort food, and is always filled with families, both young and old, seeking a slice of pie or delicious meal. Whether you're seeking a sweet pie, or a savory biscuit sandwich, Hot Hands has something for everyone.
Rating: ★★★★☆
About the Contributor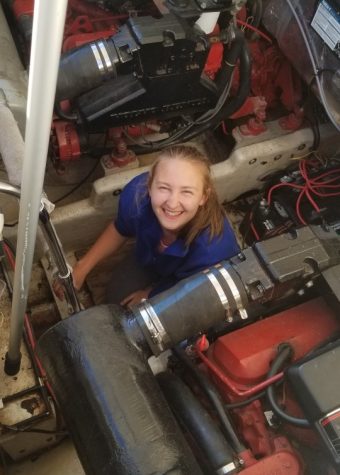 Elizabeth Trevathan, Director of RubicOnline
Elizabeth Trevathan is the Director of RubicOnline. This is her third year on staff. Her parents own an essential business, so she has been attending school...