Pump up songs get athletes ready to play
What's the perfect pregame pump up song? Most people have a song that comes to mind. Every song evokes its own unique memory for each individual, because of a memory or team that people associate it with. Keeping a regular warm-up routine is key to success. Many of the top athletes in the world work hard to perfect their pregame playlist or song, and the athletes of Saint Paul Academy are no exception.
For sophomore Harry Mahmic, the song that gets him ready for tennis matches is "7 Rings" by Ariana Grande. "I was listening to the Billboard Top 100 because I was bored. And then '7 Rings' came on, and I knew that this was my song," he said.
Before tennis matches, you can find Mahmic with his best tennis racket in hand, headphones on, and "7 Rings" blaring at full volume.
Scientific research proves that music has an effect on an athlete's performance. An article from Science Daily talks about the effects of music on athletes. Dennis Hsu, an assistant professor of management at Hong Kong University, noticed that most athletes have headphones on when entering the stadium or locker room and decided to look into it. The study found that powerful songs with a strong bass can have positive effects on physical and mental performance, such as faster reaction time.
"
Research also suggests that songs with aggressive lyrics and faster tempos are most popular among athletes and are proven to be most effective on performance."
Senior Helen Bartlett prefers the music of Armando Christian Pérez, better known as Pitbull, to prepare to perform her best. "'Fireball' by Pitbull never fails to get me hype. I listen to it before Soccer, Lacrosse, and Nordic, and even before some tests," she said.
Research also suggests that songs with aggressive lyrics and faster tempos are most popular among athletes and are proven to be most effective on performance. Although the majority of people prefer faster songs before exercise, there are some exceptions.
US History teacher Ben Bollinger Danielson said that in his younger athlete days, he often listened to the Rocky IV movie soundtrack before athletic events. He also listens to another artist with a very different sound: Tracy Chapman, a blues and soul singer. 
"The best music to pump you up is the music that calms you down," he said.
For some athletes, the songs that they choose to listen to before games also serve as a reminder of why they play. 
Sophomore Judah Thomas listens to "Peanut Butter Jelly" by Galantis before hockey and football games as a reminder of his values and to stay humble. 
"It reminds me that I'm not just here to play for myself; I'm here to play for my team," he said.
John Becker, a junior on the boys hockey team, listens to "Shell Shocked" (feat. Kill the Noise & Madsonik) from the movie, Teenage Mutant Ninja Turtles, by Juicy J, Wiz Khalifa & Ty Dolla $ign before hockey games. 
"I think the song represents how you've got to stay together as one, and songs like this are going to make sure that the hockey team has a good year," he said.
Songs can also serve as reminders of good memories and get athletes in the mood to play good game. 
Sophomore Esther Allen said that her pump up song is "Night Shift" by John Pardi because of the song's message and the happy memories that come to mind when the song begins.
Allen said, "This song has so many positive memories attached to it, including screaming with my friends in the car on the way to volleyball." 
She also voiced how the lyrics continue to remind her to leave behind the rest of the week and focus on getting pumped up for her next game. 
Whether your warmup routine includes fast paced songs like "Shell Shocked" or slower songs by artists such as Tracy Chapman, the best pump up song is personal.
Do you have a favorite pump-up song? Share it in the comments below.
Leave a Comment
About the Contributor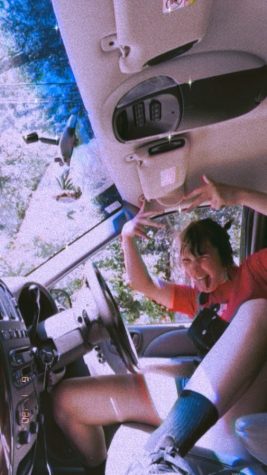 Adrienne Gaylord, Feature Editor
Adrienne Gaylord is the Feature Editor on The Rubicon. This is her second year on staff. In recent times she has been seen biking around South Minneapolis...