[CLASS OF 22] Seniors give advice on making the grade
Juliusson: Hi, I am Zekiah. With the Seniors being the only ones experiencing a full year of high school. We thought it would be interesting if Seniors gave advice to underclassmen on enjoying a successful in-person high school year.
Moore: I'm Griffin
Zimmerman: I'm Dylan Zimmerman
Lutgen: I'm Isabel
Duffy: I'm Julian
Brooks: Hello I'm Mason
Cullen: Hello my name is Sophie
Bubula: Hi I'm Spenny
Szaj: Hi I'm Vee
Moore: My advice would be, don't be afraid of like free periods and other classes that you think don't look good academically, because if you're doing something you think you might enjoy or you're taking a break your gonna need, that's going to reflect itself in all of the other work that you do, and sometimes that's the best decision you can make.
Zimmerman: Take classes with teachers that you like, because otherwise, you won't have an enjoyable experience
Lutgen: And my advice for 9th graders is to join as many sports and clubs and activities as possible
Duffy: Use your free period wisely and try to get work done. At the time, it may seem fun to just mess around and do other stuff, but it is really good to relieve stress for later in life and not procrastinate.
Mason: Get your work done on time but also don't stress over yourself too much because you got four years to raise your grades up.
Cullen: I would highly recommend visiting your teachers if you need advice because they are experts in their fields.
Bubula: My advice to freshmen would be to get your work done soon because then you won't be up all night doing your work.
Szaj: I would recommend that you work really hard to get your assignments done. Because I realized in my freshman year, I spent a lot of freshman time avoiding doing assignments when it would have been even faster to just do them.
Juliusson: After listening to these wise words of advice from seniors, please take into consideration their thoughts as you progress through your high school experience. Thank you.
Leave a Comment
About the Contributor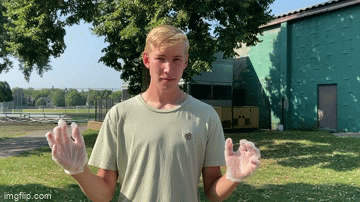 Zekiah Juliusson, Opinions Editor
Zekiah Juliusson is the Opinions Editor of Rubiconline and this will be his 4th year on staff. Over the summer he took a fun boundary waters trip and played...