[PHOTO GALLERY] Keg and Case turns brewery into Minnesota-centric market
Within the walls of the historic Schmidt Brewery, Keg and Case West Seventh Market contains a myriad of local vendors from the Twin Cities. Within the former "keg house," there are now 23 shopping and tasting destinations. On the second floor, one can see the entire layout of the 33,000 square foot building. The destination, 11 years in the making, opened earlier this fall in September.
Inspired to visit? Here is a list of the 23 destinations within the home-grown operation:
Enjoy fresh-pressed juices from Green Bee with fresh and Instagrammable drinks.
Taste traditional middle eastern pastries. Note, they are closed on Sundays to observe Shabbat.
Square-sliced pizza lovers unite this locally operated pizza slice shop. The restaurant includes classic pizza flavors in addition to their Minnesota flavors too.
Fresh honey skincare products coupled with "Save the Bees" apparel gives Worker Bee attitude directly from the hive.
Clutch Brewing Co.
It wouldn't be a "Keg and Case Market" without a local beer taproom.
Relocated from its original spot near Grand Avenue, Evla Pottery displays a wide array of Minnesota made artwork.
Spinning Wylde
Cotton candy meets sprinkles and over 50 flavors at Spinning Wylde. Friendly samples are often delivered here, too.
Pimento Jamaican Kitchen
Opening in December 2018.
From pastries to cookies, take delight from this vendor with friendly packages to be eaten upstairs in the lounge area of the market.
Healthy treats for canines including hemp oils to help with dog anxiety and stress.
Taste and buy homemade barbeque sauces at Croix Valley.
Find a seat within this sit-down restaurant at Keg and Case and enjoy unique platters made fresh.
Organic flavors, locally sourced ingredients.
Southern-style barbeque made for the Midwest appetite. Celiac options are available.
Delicious meals made uniquely in the fire. The food is fresh and the ingredients are outsourced locally.
From dangling sausages to baguettes, K'nack offers authentically German-inspired meats.
Cheese platters made specifically to complement a refined palate.
Simple flavors. Rich egg and butter brioche dough. Bogart's Doughnut Co. satisfies the sweet tooth in anyone.
Enjoy personalized coffee brews and service at Five Watt Coffee, a coffee shop founded in 2014.
Within Keg and Case Market sits a 14-foot-tall climate controlled gas chamber filled with mushrooms grown onsite. The shop sells mushrooms and other foraging supplies.
Choose from a diverse range of pickle flavors and pickled beets at Hobby Farming Canning Company.
Gift a loved one a fresh flower boquet from the small team at Studio Emme, a business that seeks to modernize floral arrangements.
Carried on from three generations, this family company provides handcrafted woodwork such as furniture and frames for the lumber enthusiasts.
Leave a Comment
About the Writer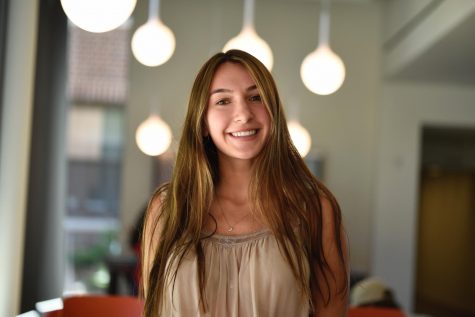 Mimi Geller, Director of RubicOnline
Mimi Geller is the Director of RubicOnline. This is her fourth year on staff. Mimi believes that high school journalism connects people by sharing their...