New year, new us: checking in with resolutions
With the hectic year that was 2021 coming to a close, many people looked forward to a fresh start and an opportunity to reflect and reset with New Year's resolutions come Jan. 1. Here is a mid-month check-in on the resolutions of members of the SPA community and an inside look at how they create and commit to their goals.
Every year, ninth-grader Pranav Ganji looks forward to setting new priorities and trying to push himself, though he tries to remain realistic and set achievable goals. Ganji consistently sets goals like eating healthier or getting more sleep. Yet, he tries and fails year after year; each attempt only works for a week to two months. While many may find this discouraging, Ganji has learned from past mistakes and determined the root of his issues.
"I guess the reason that they flop is because I am going in with that expectation," he said.
"
A positive mindset is the first step to success."
This is a common issue that, if left unacknowledged, can cause people to give up in the early stages of the year. A positive mindset is the first step to success. Regardless of initial expectations, it's important to remember that having a goal in mind is always beneficial. Ganji finds that resilience is key when creating habits, and with failures behind him, he never steps down from the challenge. Despite obstacles, he said, "setting goals gives me a clear view on what I want to accomplish." In the future, Ganji will look for new, more sustainable resolutions that better fit into his social and school life and keep an open mind, so he can build consistency.
Sophomore Ayla Rivers also set a goal this year that she hopes she can accomplish if she continues to invest time into her progress. Rivers' resolution is to improve her grades and boost her B's to A's in classes where she knows she could be doing better. After her mother expressed confidence in her abilities to improve her grades, Rivers reflected on her effort in school and gained the motivation to push herself, using her own desire for growth and the support of her mother as motivation. With the start of quarter three as an additional clean slate, Rivers has the ability to start the second semester on a strong note.
Although setting goals at any time of year can be beneficial, Rivers finds that a new year is the best time to set goals because even if they don't work out, it's always nice to begin a fresh start with an intent to invest in herself.
In America, the number of people making New Year's resolutions has decreased in the past two years. Just 29% of Americans say they would be making a resolution for 2022, down 43% from last year. According to Forbes, only 8% will achieve the resolution they set, but optimism about the upcoming year is essential for staying responsible and stopping procrastination.
The new year is a time for hope and possibility, and one way to get in the spirit of self-improvement is to develop goals and aspirations. Regardless of Jan. 1 commitments, it is important to be intentional at all times of the year.
Leave a Comment
About the Contributors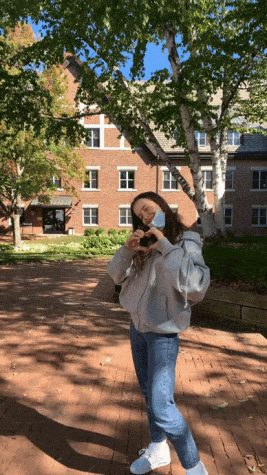 Lucy Thomas
Lucy Thomas (she/her) is a freshman first-year Rubicon member. She enjoys playing sports including volleyball, basketball and lacrosse. Thomas is also...
Mimi Huelster, Illustrator
Mimi Huelster is the Illustrator on RubicOnline. This is her second year on staff. While in self-isolation, you can find her drawing, making toast, and...