New class designed to give women a place in history
Mary Wollstonecraft. Elizabeth Cady Stanton. Susan B. Anthony. Coco Chanel. Malala Yousafzai. These women are only a few of the revolutionaries that have worked to transform mindset in order to receive equal rights. Yet many of their stories remain unknown to students at St. Paul Academy and Summit School. A spring senior elective titled History of Women in the World hopes to change all of that.
"We had several history teachers retire last year, so we evaluated our choices and I thought a women's history class would fill the gap in our curriculum," Upper School history teacher Nan Dreher said.
Obtaining intellectual satisfaction by gaining more specific knowledge about the role of women in society is the main reason junior Nadia Goldman decided to take this elective. "I know a lot [about women's history]. I follow a lot of feminist struggles now, but I didn't really know how they started so I was interested in that…I think it [this course] will provide background knowledge," she said.
This class explores both how society shapes gender roles, and how gender roles have shaped societies in several regions of the world during a variety of time periods. Students will cover themes like religion, culture, education, law, and sexuality in relation to women historically.
"
[This course] gives women who've accomplished great things recognition."
— Senior Mattie Daub
Since this elective is still fairly new, the students in Dreher's class have a lot of freedom regarding the material they're going to cover. "[Dr. Dreher] is giving us a lot of input regarding the class [curriculum]," senior Mattie Daub said. "Everyone I've talked to is excited…even if you're not naturally drawn to it [women's history], it could still be appealing intellectually."
Although it may seem as though the History of Women in the World class is geared more towards female than male students, Dreher said that it's meant for "[anyone who has] a strong interest in historical topics, but also in current events and in finding ways to achieve gender equality."
Senior Ian Sussna hopes that it won't be the last class that tries to expand the perspectives shared: "[There should be] not just more courses [like the History of Women in the World], but more topics like this incorporated into the regular history classes," he said.
Goldman believes it benefits the students who take it, since "there's time for important discussions [about women]…it's interesting to hear lots of people I don't usually hear from speak up," she said.
In most history classes, Sussna doesn't see the proper attention he believes should be there regarding women. "Normally history classes touch on it [women's history] in a really minor way…on the few highlights, ignoring how much of a struggle there still is today and how much room there is for improvement," he said.
Daub hopes that this course will cover intersectionality between issues like racism and sexism, topics that usually aren't discussed exclusively in any other course. "There are a lot of voices that don't get heard in history…[this course is] a start," she said. "A lot of influential women who've done a lot of things get muted in history. People play down their accomplishments. [This course] gives women who've accomplished great things recognition."
About the Contributors
Noor Qureishy, The Rubicon, Managing Editor
Senior Noor Qureishy, in her fourth year on staff, is The Rubicon's Managing Editor. Qureishy is the Co-President of the Muslim Student Alliance group...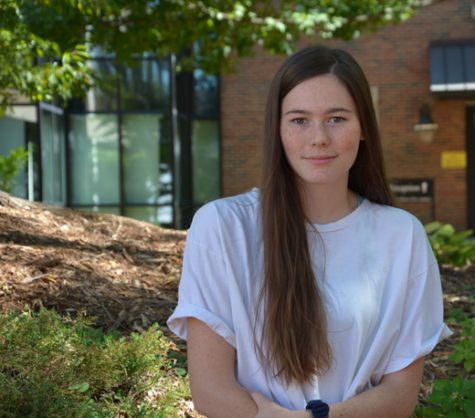 Mari Knudson, Graphics Editor / Aureus Asst. EIC
Mari Knudson is a senior member of the staff, a dedicated student athlete, and the Graphics Editor for The Rubicon this year. She is also Assistant EIC...