MSA hosts third annual Hijab Day
The Muslim Student Alliance organized and facilitated Hijab Day on Feb. 1. This is the third year MSA has hosted the event. MSA set up a table outside of the dean's office and handed out stickers and hijabs, as well assisted female students in putting them on. Hijab day is a global event recognized across the world as a way for a wide variety of women to experience and wear the hijab. There are many reasons why hijab day is and should be recognized, including forging bonds between people in the community and the feeling of being connected to other people. Students that participated in the event shared their thoughts and reasons for participating.
MSA Vice-President Mashal Naqvi wanted to give people a view into the lives of women that wear hijabs.
"It give people insight on how it feels to wear your identity on your head. Hijab is a physical statement of your beliefs, so wearing hijab gives people insight on how it feels to make a public statement every day," Naqvi said.
Allowing people into the minds of Muslim women can help more people understand and become an ally to those women. Wearing a hijab is completely different than simply supporting the cause and having a reason for wearing it will depend on the person.
Junior Rachael Johnson and sophomore Anna Snider chose to participate in Hijab Day as non-Muslims. Snider wore a hijab and felt connected to other students, while Johnson did not actually wear the hijab she still connected to her fellow students.
"We like to show support for our friends, and it's important to educate people about the cultures we're surrounded by," Johnson said.
Snider added that "One of the big reasons is to bring awareness and feel connected to other people." 
Non-Muslims may or may not know the actual reason for wearing a hijab, but having some sort of understanding is better than not knowing. Johnson and sophomore Nina Smetana gave their own ideas about what the hijab symbolizes.
"I see it as a form of pride in religion," Johnson said.
"Well, it brings awareness to not only the culture, but the feeling of wearing a hijab," Smetana said.
MSA's next event will be participating with other student groups in the week without genocide.
About the Contributor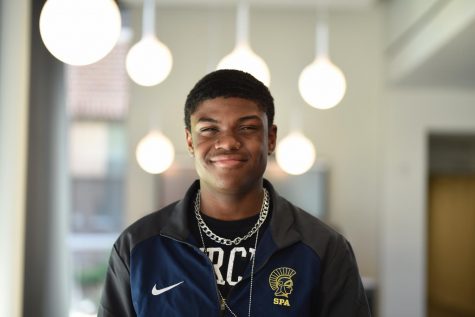 Tristan Hitchens-Brookins, Podcast Editor
Tristan Hitchens-Brookins is one of the members of the Interactive Storytelling Team at RubicOnline. This is his third year on staff. Tristan's philosophy...