Minnesota chefs give food away in makeshift market
Gov. Tim Walz's Monday directive to temporarily close all restaurants and bars' dine-in services took effect on Tuesday; it remains effective until Mar. 27. This order came in response to the COVID-19 outbreak in Minnesota, where confirmed cases now number nearly 100.
Iron Chef Justin Sutherland, who also competed on Bravo's Top Chef, is the food consultant at Allianz Field and has several recently-dark restaurants in the Twin Cities. Walz's directive left Sutherland and many other chefs with food purchased for service that can no longer happen.
Rather than letting that food go to waste, Sutherland and Chef David Fhima (of FHIMA'S MINNEAPOLIS and Executive Chef for the Minnesota Timberwolves and Lynx) joined forces with others in the local food scene to transform the dining room of Sutherland's Mears Park restaurant, PUBLIC kitchen + bar, into a market fully stocked with fresh produce, perishables, and pantry staples. All of it is open and free for everyone. The catch? Just bring your own bag.
Originally designed to help support the thousands of Minnesotans who lost their food service jobs due to coronavirus closures, the free public market opened at 3 p.m. on Thursday and will open again at noon on Friday. Chef Sutherland also parked his Fare Well food truck out front, serving a free meal to anyone who needed it.
Chefs Sutherland and Fhima were joined by Chefs Daniel Cataldo and Tre Hardy, and many other volunteers. Numerous Twin Cities restaurants and caterers, including Shish, Meritage, Cherokee Tavern, Levy (Target Center's food service), and US Foods, contributed food they can't use. They pooled enough food together "for 'several hundred families at least' to fill a bag," Sutherland told the Pioneer Press.
To support the market, Chef Fhima took a break from serving complimentary food-to-go curbside, which he started Wednesday; once he's back in the kitchen, he'll serve food "until the food runs out," he shared on Instagram.
Following the CDC social distancing guidelines, only ten shoppers were allowed in the market at a time, and those who waited outside stood six feet apart.
[Update]: Since this article was published, and as of Mar. 20 at 2:15p, Minnesota's number of confirmed COVID-19 cases has breached 110.
About the Contributor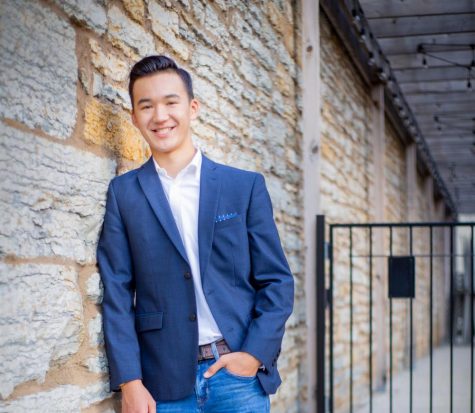 Nikolas Liepins, Political Correspondent/Contributor
Nikolas Liepins is the Political Correspondent and a writer/(photo)journalist for The Rubicon, RubicOnline, and Ibid Yearbook. This is his second year...