Lagos earns a spot as Mr. Soccer finalist
Every year, the Minnesota State High School League selects four candidates to be nominated for the prestigious Mr. and Ms. Soccer awards from across Class A and AA respectively. The candidates, typically selected for top performance on their teams across multiple years, are honored at the annual state banquet on Sunday, October 22.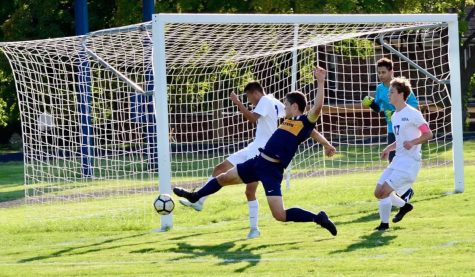 This year, senior co-captain Eric Lagos was selected as one of the four candidates for the Mr. Soccer title.  Coming off of his junior season as a member of the Class A all-state team, Lagos is likely to be a repeat member this year. Scoring 8 of 18 goals this season, Lagos lead the team t0 several key victories most notably over the number 3 ranked Blake School on Sept. 22. "One of the highlights this season was definitely the shootout victory over Blake or when I scored against, our rival, Holy Angels," said Lagos. Both teams, ranked in the top 5 according to MN Soccer Hub, qualified for the Class A state tournament. While both were not an easy team to score on, Lagos's skills helped him find the back of the net.
For Lagos, his recognition from the MSHSL was not a surprise. "It's a great honor to be nominated alongside these other great players. I wasn't surprised to be a finalist but I wouldn't be surprised if I weren't one, there are a lot of great players around the state but I've always believed in my ability as a player," said Lagos.
The Spartans ended their season, after a hard loss to Minnehaha,  6-2-5 and placed 4th in the IMAC Conference.