Juniors share semester away experiences
Junior year is the perfect year for students to travel and learn away from their normal school set up and explore new experiences in a different setting. Although few juniors travel on a semester away trip, all come back with new friendships and experiences. There are many different programs in different cities juniors can join to suit their academic and personal interests.
Junior Val Chafee was among the few who traveled away last semester. She went to Maine with the Maine Coast Semester program or Chenwoki.
Chafee said, "My favorite thing about MCS was the people. It was really sort of incredible to be able to experience everything Chewonki had to offer with my cabin mates and friends, like the woods, the farm, the trails, or even open camping on weekends. I think one reason I enjoyed being with people so much was the cabins; I lived with 5 other girls who were like family to me, and about 3/4 of the way through the semester we could go into other people's cabins. There's something special about making a fort out of a spare bed or playing cards on the floor next to the wood stove because it's freezing inside."
"
There's something special about making a fort out of a spare bed or playing cards on the floor next to the wood stove because it's freezing inside."
— Val Chafee
The pandemic posed problems and challenges for Chafee and her fellow peers. "We were always told that we were the experiment: MCS had never had a semester quite like ours, in the middle of a pandemic. It was hard because a lot of people felt like there was a disconnect between the rules and the reasons behind them. Some made sense to us and others were never really explained. We still stuck up for ourselves, though, and the rules grew and changed over time as students communicated with faculty and staff about the changes we wanted," Chafee said.
Another student among the few who attended a semester away trip last semester was junior Owen Pifer. Pifer attended the School of Ethics and Global Leadership stationed in D.C.
Pifer said, "The dorm buildings were actually immediately right next to the Supreme Court, so I saw a lot happen there with Stop the Steal protests, people gathering after the death of RBG, and also protests after the confirmation of Amy Coney Barett."
Semester away schedules were different and the same as SPA's model, however, it depended on the program each student attended.
Pifer shared, "Basically during a normal day I would go to my classes, which luckily enough lined up near perfectly with SPA, and those classes were in person due to the fact that we were in a bubble of sorts, and that was especially nice. The difference between classes there and at SPA would be that the classes there were a lot more discussion-based and encouraged debate. For example, in English class at the start of every class would address a prompt that had an ethical question in it that pertained to what we were reading, and then would discuss that for a good portion of the class…Another notable part of my schedule was my Ethics in Leadership class which occurred weekly on Wednesdays, in which we would talk and learn about a specific issue and ethics. There were also usually 2+ guest speakers per week who would come in as a part of case studies that we did. For example, we talked to Representative Greg Walden, a Republican from Oregon, as part of our climate change case study, and he was a very interesting guest speaker…Something else is that the schedule was very flexible and often allowed for not previously planned activities to be slotted in during the school day which was great. We were also allowed to go out with groups of people and on our own later on, so I got to explore a lot of DC by the national mall."
"
The difference between classes there and at SPA would be that the classes there were a lot more discussion-based and encouraged debate."
— Owen Pifer
Chafee's experience was a little bit different. She said, "We had health check at 6:40 every morning, and by 6:55 we gathered in the morning to start our day as a community. Chores, breakfast, and morning meeting all happened before 8:30 when classes started. We'd have lunch (and sometimes dish crew) and the afternoon either consisted of more class, field lab (a part of our science class), wellness (focused on community health), or work program, where we'd help out on the farm, maintain trails, or do invasive species removal. A bit of free time, followed by dinner, and when we had class the next day, we'd have study hours until 9. We were back and checked in at our cabins by 10 every night. On weekends, it's a bit more relaxed — you get to sleep in on Sunday and have late check-in on Saturday. Plus, on Friday and Saturday nights, there was always some special activity (the one on Saturday night was always planned by students)."
Though it depends on the program and student's interest, both Chafee and Pifer would recommend this experience to younger students.
Pifer said, "I would definitely recommend it to anybody who is considering it because it was a phenomenal experience and I would definitely do it again."
Chafee said, "I would definitely recommend the experience to people who are considering it, but it's also not going to be like how the admissions people paint it. Every experience is different and I think every school — semester program or not — is constantly changing and evolving. To be perfectly honest, at the beginning, I didn't like it very much. We had to distance from everyone for the first two weeks, and there wasn't a lot of free time to meet new people. Over time, though, as I met my classmates, bonded with my cabin, and took full advantage of being in the woods, I grew to really love it."
Leave a Comment
About the Contributor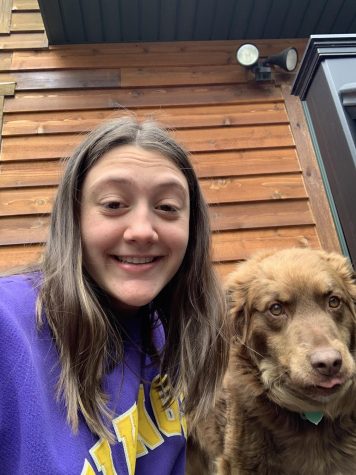 Annika Rock, News Editor
Annika Rock is a News Editor at RubicOnline. This is her second year on staff. During quarantine, she has been taken daily walks around her neighborhood...