Intercultural Club hosts MLK assembly discussion
Intercultural Club hosted speakers Rose McGee and Anthony Galloway on Jan. 27 for the annual MLK assembly.The pair talked history, anti-racism, and the power of community in the 45-minute assembly moderated by senior Arie Walker and junior Gabriella Thompson. They responded by weaving history lessons, wisdom from their work lives and personal narratives into every answer. 
"We really wanted to have an assembly this year where people were engaged with it because we know in the past we've had issues with students being engaged in the assembly and really listening to what the speakers had to say. I think what we did to achieve that was having the form that was sent out so that questions asked were from the students," Thompson said.  
Many times during the assembly, the audience reacted with laughter to the speaker's conversation. For example, Galloway extended the often studied version of Rosa Parks seat-on-the-bus story by sharing details few people knew. The audience laughed when Galloway said, "Rosa Parks was a G." 
Students from Intercultural Club opened the assembly by defining five values: equity, unity, resilience, compassion and honesty. McGee and Galloway touched on these values in their discussion and integrated them into stories. 
"
The people they [Intercultural Club] chose to bring provided interesting and relevant stories that really brought the point home discussing the five prompts SPA wants to frame MLK day under."
— Garrett Pauly
"I felt the assembly was good," junior Garrett Pauly said, "The people they [Intercultural Club] chose to bring provided interesting and relevant stories that really brought the point home discussing the five prompts SPA wants to frame MLK day under."
"I thought it was really interesting and eye-opening what the speakers had to say about equity because I didn't really know much about the definition and depth of equity," sophomore Katherine Bragg said. 
Martin Luther King Jr. was a very influential figure in the mid-twentieth century but, in the discussion, was framed as the catalyst for starting a legacy instead of being the focus of the assembly. 
Still, "[MLK day and King himself] relates to the way I want to build community with people different than me and who come from different backgrounds, ethnicities, races, sexes and genders. It relates to how I want to interact with people and understand their stories and histories," Pauly said. 
US History teacher Aaron Shulow agreed with what the speakers had to say during the assembly: "I think the best reminder came at the end [of the assembly] when they were talking about how we have to take time to pay particular attention to the contributions of the marginalized communities to the American story, while still knowing that they are not separate. We have to pay specific attention and respect to the story but also at the same remember that it's part of the larger story. That's really important for me as a teacher; to try to bring in as many distinct perspectives into our story while emphasizing to students that this is the whole story because what is American is very diverse." 
Bragg said, "I think this assembly and MLK himself impacted my life in a way that it opened my eyes a little bit more to what other people view the world as in terms of race. I thought it resonated with me because it taught me a lot and I thought the things they were saying in the assembly were very influential and made me feel like I should get up and do something." 
The assembly was followed up with advisory discussions on Jan. 29. During that time, advisories were asked to commit to one of the values and determine ways they could focus on that value this year.
Leave a Comment
About the Contributor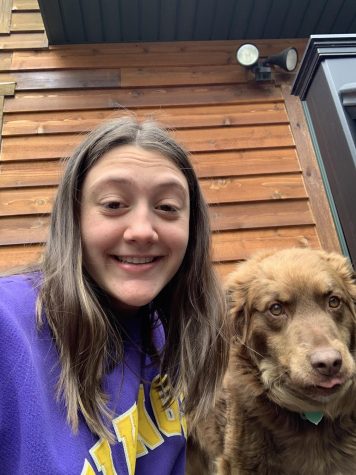 Annika Rock, News Editor
Annika Rock is a News Editor at RubicOnline. This is her second year on staff. During quarantine, she has been taken daily walks around her neighborhood...