Hoven resignation brings mid-year change
On Nov 5, St. Paul Academy's administration announced that English teacher Matt Hoven had resigned from his position following a period of medical leave. The following Monday, two teachers, Haseena Hamzawala and Scott Telfer, took over his 10th grade American Literature class, English elective on comedic and satirical literature, and his advisory.
"We know mid-year transitions can be challenging," wrote Principal Max Delgado in the announcement email. "But we are exceptionally fortunate to have two master teachers who will be stepping in…"
Hamzawala, who has previously worked at SPA for several years before becoming an educational equity consultant for Penumbra Theater and the Equity Literacy Institute, was already teaching Literature of Comedy and Satire in Hoven's place during his medical leave. She will continue in the position following his resignation.
Literature of Comedy and Satire student junior Maggie Baxter is disappointed to see Hoven go, but they're also looking forward to Hamzawala's reworking of the curriculum to focus more on the relationship of comedy and race.
"It was my first time having Mr. Hoven as a teacher, so I was really looking forward to getting to know him," Baxter said. "He created a really comfortable learning environment that I feel helped make it a more free-thinking and creative space. A lot changed with [Ms. Hamzawala] because she has created a new curriculum, so we have been learning about how comedy and race have historically and are currently being associated. I am really enjoying learning about comedic and racial relations, so I am looking forward to the rest of the semester despite losing Mr. Hoven."
Telfer will teach Hoven's former 10th grade American Literature classes for the rest of the year as well as his advisory. He will also be teaching two English elective classes this spring. Since starting the year as a teaching assistant for Mme Kerman and Mr. de Sa e Silva during Hybrid Learning, he had to make a quick transition from TA to a teacher. Despite this hasty transition, Telfer found it to be remarkably smooth.
"During my time working as TA for Madame Kerman and Mr. de Sa e Silva I was able to meet and work with many students. I was also able to observe two master teachers in action on a daily basis. Working with these teachers and students, I became part of the school culture of professionalism and collegiality. This made the transition feel natural," said Telfer.
Before coming to work at SPA, Telfer worked as an educational consultant to add to his 16 prior years of teaching. One thing he found especially comforting about working at SPA during this uncertain time was the sense of a stable community that he lacked from moving around the country.
"While I visited many schools and worked with teachers across the country, I really missed being part of a school community," Telfer said. "For me, working with teachers and students in a collaborative environment is what education is all about. It is why I became a teacher. All of the administration, teachers, staff, and students have made me feel welcome from my first day. It says something about SPA that even in the midst of such a difficult year, everyone has made a real effort to be helpful and friendly."
Telfer also feels especially appreciative of the staff members and students who helped make his transition from TA to teacher effortless and warmhearted.
"I received incredible support from Head of School Roberts, Dean Anderson, Principal Delgado, and Ms. Clark and the rest of the English Department," said Telfer. "I also want to thank my students. They immediately welcomed me into the community of their classroom and have been very helpful, giving me tech support as I navigate the challenges of distance learning. The same can be said of the remarkable students in my Advisory class. I truthfully could not have expected a better welcome or smoother transition."
"
I think that the quality of the teaching has remained top-notch, and here are definitely a lot of things that we don't know right now, but at the moment, I am pretty comfortable with this transition."
— Lindsay Browne
Sophomore Lindsay Browne, a current student of the American Literature class, has worked with both Hamzawala and Telfer during Mr. Hoven's medical leave and after his resignation. Despite the sudden transition, especially during the uncertain time of Hybrid and Distance Learning, Browne is looking forward to the rest of her time in sophomore English class.
"I think both teachers have been doing a great job of making the transition as easy as possible," said Browne. "Ms. Hamzawala was with us when we were writing essays during class, and she was so helpful and always made sure we understood what was going on. We have only had Mr. Telfer for a couple of classes, but I can already tell he is going to be a great English teacher, and he has been making classes very engaging. I think that the quality of the teaching has remained top-notch, and here are definitely a lot of things that we don't know right now, but at the moment, I am pretty comfortable with this transition."
While the loss of Hoven has surprised and hit SPA hard this month, our community has welcomed two wonderful additions to its ranks in its truly compassionate ways.
"I want to thank everyone at SPA for welcoming me. I am hopeful that we will all be together again soon," Telfer said.
Leave a Comment
About the Contributors
Mimi Huelster, Illustrator
Mimi Huelster is the Illustrator on RubicOnline. This is her second year on staff. While in self-isolation, you can find her drawing, making toast, and...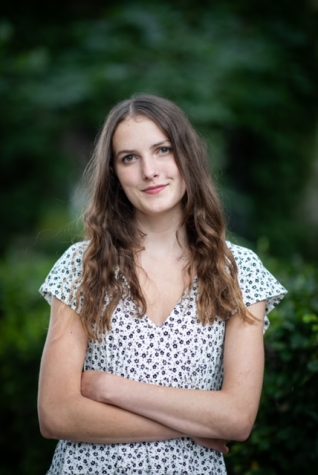 Eloise Duncan, News Editor
Eloise Duncan is a News Editor on The Rubicon. This is her fourth year on staff. While at home, she has kept busy by watching numerous shows and movies,...